Fibromyalgia Support Group
You're not alone in your pain. Fibromyalgia is a condition that can be difficult to diagnose and manage. If you're trying to cope with pain throughout your body, sleep problems, general fatigue, or other common fibromyalgia symptoms, you're in the right place. The community is here for you to talk about therapies and share your challenges.
Black Hole Friday Check In

Miki26
Morning everyone. Still insanely tired and in a lot of pain. Didn't get home til almost 8pm yesterday and left the house at 6. I got to "sleep in" until 4:30 today and I feel physically ill-shaky and nauseous. One more work day to get through..we only have morning appointments and the other person is covering for someone else so she's leaving at 1. I brought my sketch pad, maybe I can work on those portraits if the phone is slow. Might as well get paid to do it and no one else will be in the office. And maybe I'll feel less overwhelmed when they're done because the other projects I have don't have a time limit. I'm also still feeling very depressed. 
On Wednesday the first ever photos of a black hole were released, I'llpost it below in case anyone hasn't seen it. This is an exciting scientific development, black holes have been considered "unseeable" for decades. The specific one in the photo is located in a galaxy called Messier 87, or M87, and is roughly 53 million light years from earth. One light year =5.9 trillion miles or 9.5 trillion kilometers. Feel free to do the math if you want, it's probably above my skill level, but suffice it to say it's far. It's also insanely massive, about 6 billion times the mass of our sun and significantly larger than our entire solar system. What you can see in the picture isn't technically the black hole itself, but the dust and gas swirling around it. Those are moving at the speed of light and it emits a lot of radiation. Getting a photo like this required a network of 8 telescopes on 5 continents, including Antarctica, andover 200 scientists.
Also exciting is that the person who developed the computer program that made all this possible is a 29 year old woman named Katie Bouman. She started working on the algorithm 3 years ago while she was still a student at MIT. Women in STEM have generally had to work hard to get their foot in the door of a male-dominated field, so for her to spearhead this scientific breakthrough, especially at such a young age, is amazing. I hope this inspires more girls and women to follow their dreams.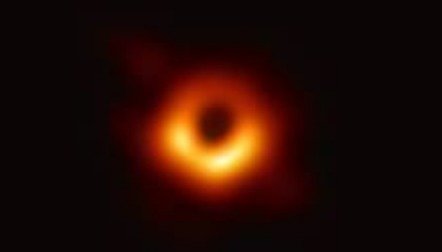 Posts You May Be Interested In
I would like to wsh all my friends a Very Happy Easter / PassoverEnjoy the time with familyHugs, Jean

Hey everyone. Today  is Good Friday, for those who celebrate. For others, it's a paid holiday. For me, it probably means people will  be calling all day because they have the day off and they waited until it was convenient for them to deal with a medical issue. I'm not feeling well today, I had a lot of trouble sleeping last night and when I finally did fall asleep I had nightmares. Not sure...