Depression Support Group
Depression is a real and debilitating condition that is often misunderstood by family and friends. Its meaning can range from a prolonged period of sadness to an actual mental illness with specific symptoms. Find and share experiences with others who are going through the same struggles.

rianbooyer
Tonight I am feeling angry at myself and feeling very guilty...
Why You may ask....Because my dad is in the hospital (ER).
The nursing home said over the past few days said that he has been very "off" and even more lethargic than normal. Aparently he laid his down and they couldn't wake him until they used pain techniques (pinching i think) to get him to stir. I think the pinching technique is used primarily to see if there is any response left in an individual to help assess how far gone they are. He did stir at that but he is getting worse and worse and i know he is going to pass soon.
But i feel guilty...
I'm mad at myself because at this point I almost feel it would be better for him if he did pass away. I know he can't be happy at the nursing home and I see how far his mind has gone. This is a man who could fix almost anything you put in front of him. He was inteligent in that way and very talented at most things. He could take a plot of land and build homes on it by himself... good homes. He could strip a car down to it's bare components and rebuild it better than the manufacturer did when they first put it together. He was a pilot when he was younger (he served in the airforce as a cargo pilot). He was the type of person who always needed something to work on and i know it kills him to not be able to understand who people are or why he can't fix things or have tools...he didn't even really know me or my brothe the last time we visited.
I keep thinking back to all the projects we used to do together. He taught me so many things. Thanks to him i know how to put elecrical throughout a house. Put new plumbing in if needed. He even taught me how to drywal but i'm not that good at it. I tend to suck at the finish work i can hang it fine but i'm not good with the mudding. He also taught me how to repair cars (well i still have problems with trannies but i'm trying) which has saved the family probably tens of thousands of dollars in labor over the past 15 years.
I can now also strip guns down and do most repairs to them as well plus target shooting isn't nearly as expensive now since i can basically reload my old rounds and know how to safely level the loads so people don't end up blowing the guns up (NO HOT LOADS).
I wish he could have taught me to fly but he sold his planes years ago.
He and my brother were not very close because all dad ever did was work. Even when i visited him the visits consited of helping him with his projects or farm work. My brother didn't understand this and since my brother couldn't do the physical stuff like me and dad they didn't get along.
but is still feel guilty.. and angry.. and i miss him and i love him so very much.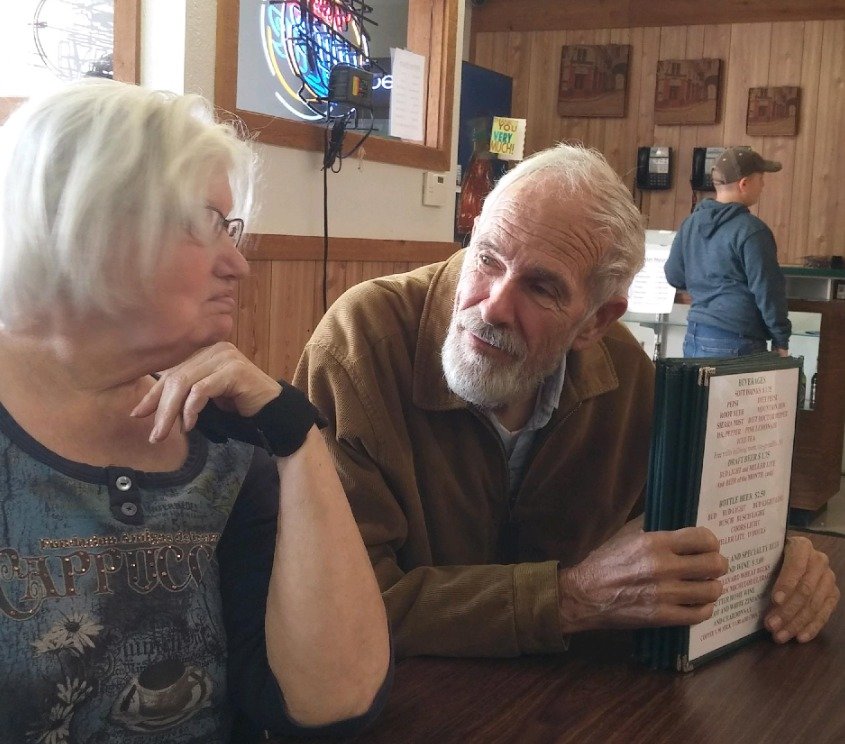 This is my favorite picture of him. It is him and mom breaking bread after 25 years i want to say.
I don't know if god is going to pull him back home yet...i still don't know what is going on. I just hope i have enough time to be able to drive the many hour trip so he isn't alone when he does pass.
I love you dad....
Posts You May Be Interested In
Hi.. this my first post.. I am going to sound so silly but I need a third person opinion on my situation. So, I am 24 years and have been in relationship with a guy for almost 4.5 years now. From our first meet, I got to know he's a very hard working guy who values his family so much even if they don't even respect him for his efforts (which is his personal life and I don't want to get into his...