Post-Traumatic Stress Disorder (PTSD) Support Group
Find support with others who have gone through a traumatic experience. Whether you have chronic or acute PTSD, we are here for you.
National PTSD Awareness Day-June 27th

Secouya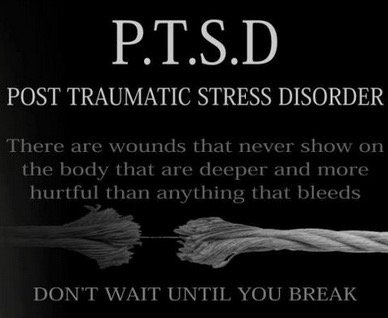 PTSD is not a sickness or disease. We are not crazy. We have been through trauma. Maybe several. PTSD is the effect. We have good days and bad days. Sometimes up and down in one day, sometimes even in one hour. Sometimes we know our triggers sometimes we don't. Sometimes there is no trigger, it just is. Some of us have bad dreams, night sweats, shakes, anxiety attacks, depression, isolation, and a slew of other symptoms and sometimes we don't. Some days are worse than others and yes, we have good days. We didn't ask for PTSD. We don't like our PTSD. But we have it, we are aware of it and we try to make it through each day without letting it control us.
Love someone with PTSD and want to know how to help? LOVE, PATIENCE, KINDNESS. THIS IS WHAT WE NEED.
BY: LDDavies for soldiers against child abuse.
If you suspect you may have PTSD, don't wait. Get help. For PTSD resources:
https://www.dailystrength.org/group/post-traumatic-stress-disorder-ptsd/discussion/june-is-national-ptsd-awareness-month
Please tell us how PTSD has affected your life. Stop the stigma and spread the word about PTSD awareness.
Posts You May Be Interested In
I was diagnosed with BP about 15 years ago, but of course, it went back farther than that. I was misdiagnosed for quite a while before they landed on a correct reason for my "craziness". I never hit an obvious manic period until my late 20s. Before that, they thought I was just chronically depressed. I think the reason they missed it for so long was because I had, what is now called, "dysphoric...

For the last three years there has been an increase of leaks that were almost worth gathering sliding glass doors from the roadside to cover with. I really didn't have any idea how to manage this. I would let my family know that I was on the bucket brigade, so couldn't join them if it was raining. They tookit as me joking about a smallleak. It's an old house, 1926. So damage had to be repaired as...