Fibromyalgia Support Group
You're not alone in your pain. Fibromyalgia is a condition that can be difficult to diagnose and manage. If you're trying to cope with pain throughout your body, sleep problems, general fatigue, or other common fibromyalgia symptoms, you're in the right place. The community is here for you to talk about therapies and share your challenges.

Miki26
Morning everyone. It's Wednesday and as usual I'm up wayy too early. Except this week I also need to do it tomorrow. And my period started yesterday. Is this week over yet? I have to bring Miki to my parents house today in case my dad comes up for the rest of the tree...all the big pieces are mercifully gone and he should just leave the few smaller pieces for me to throw into the woods, but it's 50/50 whether that'll happen. Yesterday he called and asked if he could let Miki out in the backyard with his dog, I said sure because I was going home to walk her like an hour after he left. It was a big thing explaining the new doorknob on the back door, you have to unlock it to open it from the inside and he was convinced he needed a key for that and it took 3 tries to tell him that if he's in the house he doesn't need a key. I may get questions about why I changed it. And they don't know that I'm changing the front door and deadbolt too. So that'll be interesting. Anyway, I got home and I'm fairly sure he rolled in the damn wood shavings because they were all over the house. I had to vacuum my living room. This is the other reason I'd like a heads up if he's coming, so I can mentally prepare myself..
So today I have a weird set of facts on psychopathy. I looked it up yesterday because I was reading a book where a character was revealed to be a psychopath, and I didn't know what the difference was between psychopathy and sociopathy. This stuff is fascinating in a morbid sort of way so bear with me through this tangent. Sociopathy is another more colloquial name for antisocial personality disorder, which is an emotional disorder characterized by a lack of empathy or remorse. It can be diagnosed only after a person has reached the age of 18, but symptoms must be present by age 15. Symptoms include: repeated violations of the law, lying or deception, physical aggressiveness, disregard for safety (of themselves and others), lack of remorse, and lack of responsibility in work or family environments. Psychopathy, on the other hand, is very similar to sociopathy but is considered a more severe form of antisocial personality disorder. All psychopaths are sociopaths, but the reverse is not true. Traits of psychopathy include: lack of guilt or remorse/empathy, inability to form deep emotional attachments, narcissism, charming demeanor, dishonesty, manipulation, recklessness/risk-taking. They are very similar conditions like I mentioned above, but generally sociopaths are more able to blend into society and are capable of forming some deep bonds, but not quite the same as people without the disorder. They may feel guilty hurting a family member, but probably not a complete stranger-and sometimes their symptoms diminish over time. They can also learn to reduce antisocial behavior and avoid consequences like damage to relationships, job loss, or jail time. Not so with psychopaths. 93% of psychopaths are in the criminal justice system-people tend to think of serial killers and in some cases that's true, but it can also be nonviolent crimes like fraud or extortion or theft. Psychopaths tend to be acutely aware and organized about what they're doing, but they can maintain good physical and emotional control no matter how horrifying it is. They don't (can't) care. They are also likely to come off as charming and mimic normal behaviors in order to con people for some sort of gain-be it to just mess around with them for the thrill of it or something much worse. It's also common for psychopaths to hurt animals or smaller children when they're young, and often the behavior spirals from there.
So yeah, that's how my mind works. I read a book and subsequently spend an hour looking up information on psycopaths. My Google search history is interesting, to say the least.
I hope everyone has a good day, I'm going to leave a cute picture of Koshka to offset the weirdness lol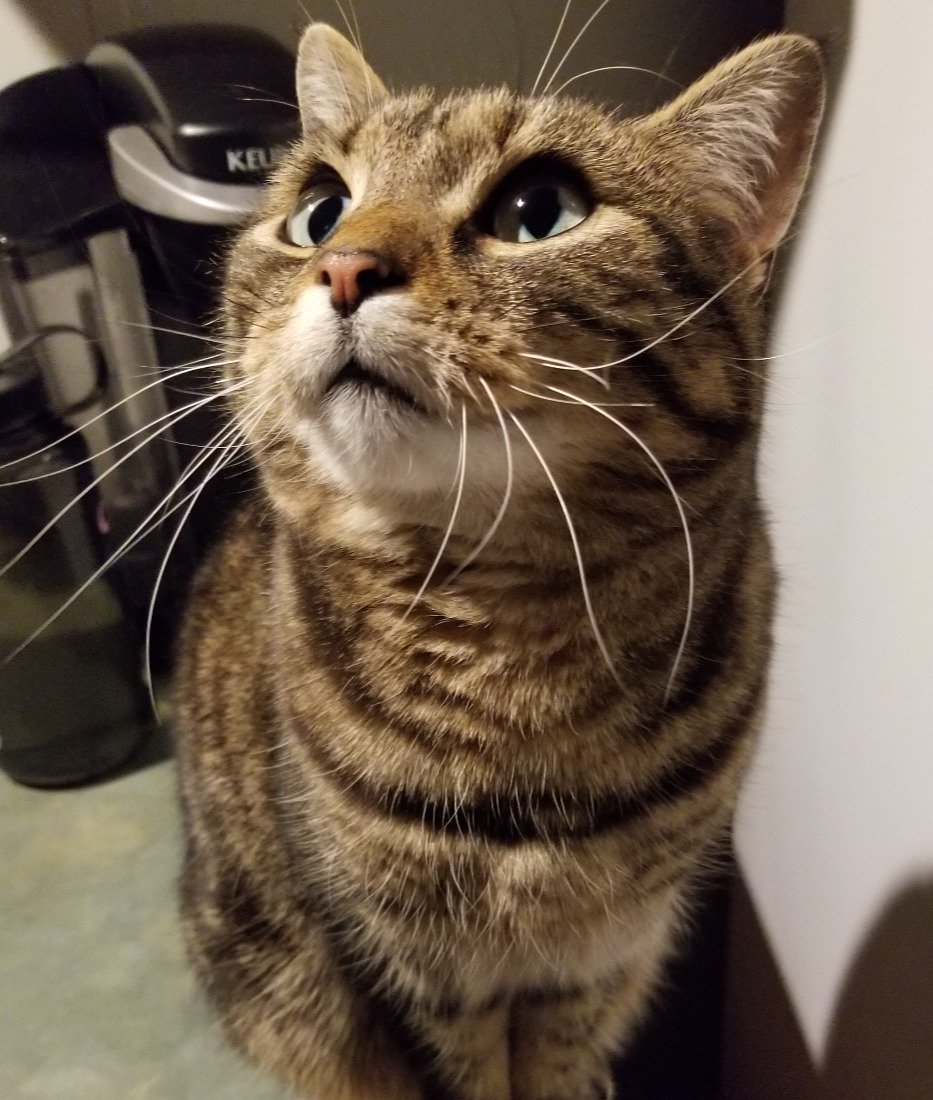 Posts You May Be Interested In
I would like to wsh all my friends a Very Happy Easter / PassoverEnjoy the time with familyHugs, Jean

Happy (insert your holy celebration) weekend, all!So, the lawyer basically said that since I have no maiming or death (yep, the dead always call lawyers) that the hospital system is off the hook for letting me slide through so many cracks and so forth. Lesson learned. Your life is worthless if you can't prove worth. Got it.I got 2/3 way through making choc chip cookie dough before I had to ask...