Fibromyalgia Support Group
You're not alone in your pain. Fibromyalgia is a condition that can be difficult to diagnose and manage. If you're trying to cope with pain throughout your body, sleep problems, general fatigue, or other common fibromyalgia symptoms, you're in the right place. The community is here for you to talk about therapies and share your challenges.

Miki26
Morning everyone. Today is Patriot's Day, the 6th anniversary of the Boston marathon bombing, and the first year the race falls on the same date. I don't have any additional information on anything interesting today, sorry. My weekend ended up being crazy. I mentioned that I was going to hang the door I bought, but I realized that the hole fir the doorknob was way off from my current doors. My own fault for assuming they were a standard height and that the ones in my house conformed to that. I don't have the necessary equipment to drill new holes for it, and it wouldn't look good with a second hole for the latch in the trim. So I decided to just paint the existing doors and change the knobs and hinges. Got 2 doors painted on Saturday and yesterday tried to change the hinges on the door to the bathroom Nox stays in, and when I got it hung the door wouldn't close. I tried messing with it until my hands made it very clear I had to stop. Bf came over and also tried to mess with it, but he says we'll need to use some tools and probably sand down part of the trim that isn't level. So for this week I have to close it by tying a rope to the doorknob and clipping it around the cat tree so Nox can't get out. I was so frustrated because I was looking forward to getting that done and I just created more stress for myself.  It's also raining this morning, so I'm in a lot of pain. So I'm going to end witb this adorable picture of Nox, he's kind of an oddball kitty, and he turns into a little train wreck when he cuddles. He also likes to groom himself while lying on his back, which doesn't seem like the easiest way but what do I know? So that's what he was doing here: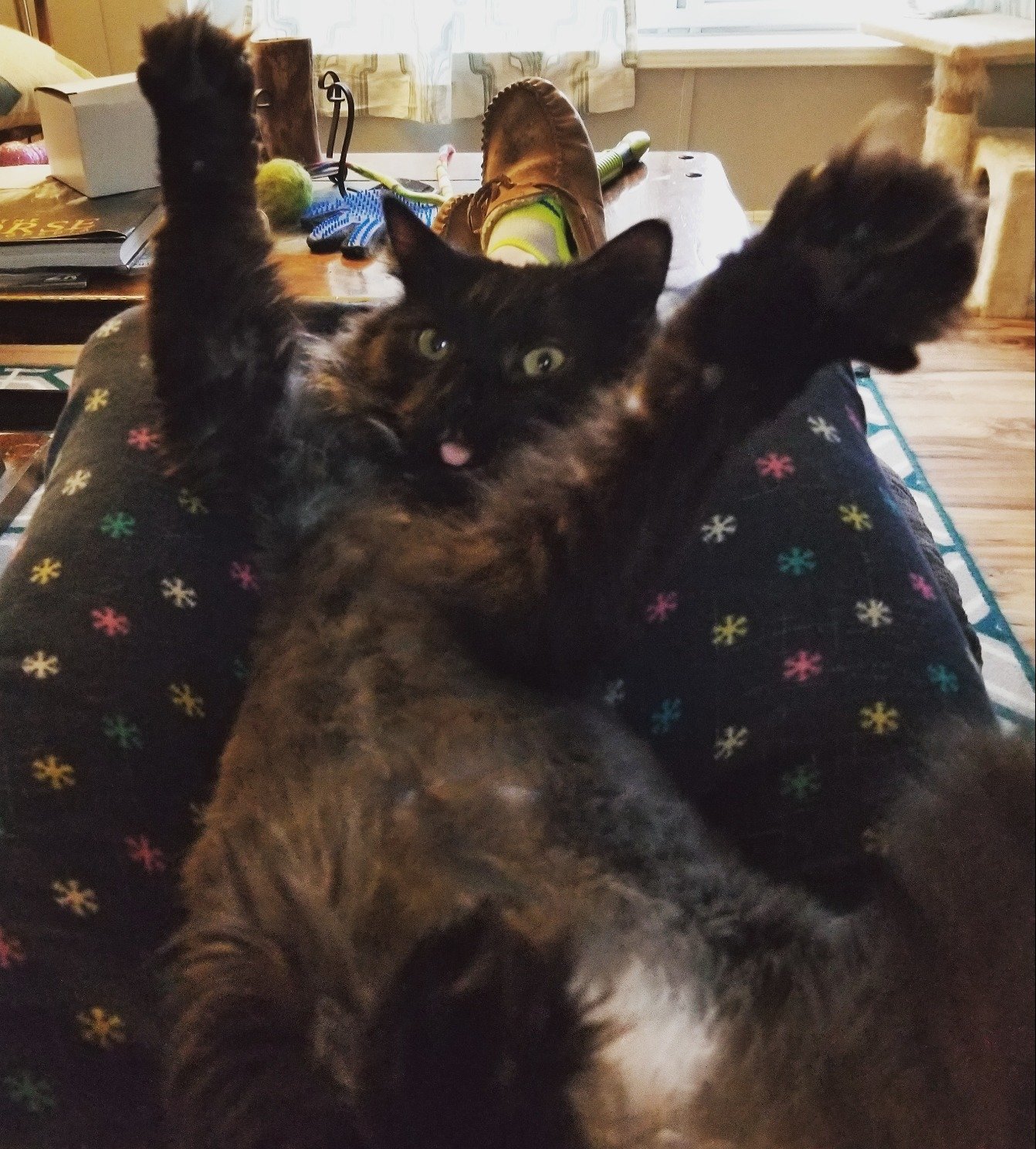 Posts You May Be Interested In
Happy (insert your holy celebration) weekend, all!So, the lawyer basically said that since I have no maiming or death (yep, the dead always call lawyers) that the hospital system is off the hook for letting me slide through so many cracks and so forth. Lesson learned. Your life is worthless if you can't prove worth. Got it.I got 2/3 way through making choc chip cookie dough before I had to ask...

Hey everyone. Today  is Good Friday, for those who celebrate. For others, it's a paid holiday. For me, it probably means people will  be calling all day because they have the day off and they waited until it was convenient for them to deal with a medical issue. I'm not feeling well today, I had a lot of trouble sleeping last night and when I finally did fall asleep I had nightmares. Not sure...