Everest High passes Trek
Overview
The Everest Three Passes trek is the ultimate tour of the Everest region. This route takes in all the highlights—both in terms of mountain views and local culture—and combines them into a complete experience of the Everest region.
Highlights
   Trek a circuit around the entire Everest region




   Amazing views of the highest mountains in the world




   Cross three challenging 5000m passes: Renjo La, Cho La and Kongma La




   Leave the crowds of the Everest Base Camp trek behind



Fast facts
Min. duration        20 days
Max. elevation     5545m (Kala Patthar)
Start/finish            Lukla/Lukla
Difficulty               Challenging
Trek style             Teahouse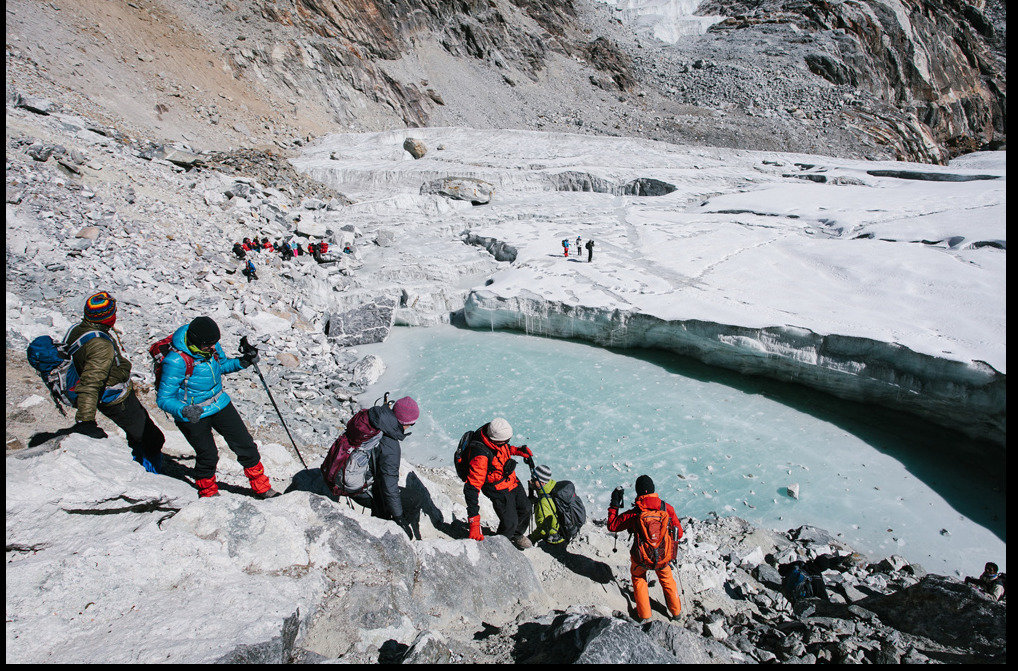 The Everest Region is one of Nepal's top trekking destinations, and the Everest Three Passes Trek is its ultimate trekking adventure, crossing three passes over 5,000m, each offering amazing scenery and views. This trek was ranked the number 2 on Peregrine Treks' list of the best treks in Nepal.
Getting there & away
The typical starting point of the Everest  Three Passes Trek is the mountain airport of Lukla, a 30-minute spectacular flight from Kathmandu.
If you have some more time, there are a couple of alternative trailheads that add a number of trekking days in the Lower Khumbu: The small airport of Phaplu (adds about 4 days of trekking) and the trailhead at the end of the road in Jiri (adds about 7 days).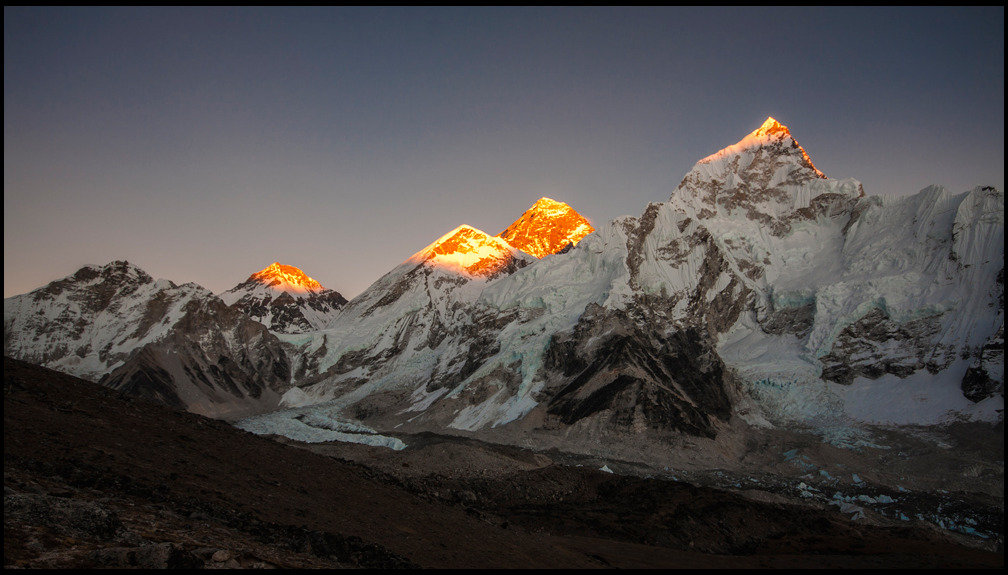 Permits & regulations
As with other treks in the Everest region, you'll needs a TIMS ($10 USD) permit and a Sagarmatha National Park permit ($34 USD). Peregrine Treks will arrange these for you. If you're arranging your trek yourself, you'll need to pick up your TIMS permit in Kathmandu, and your Sagarmatha National Park permit in Monjo (a village checkpost you'll pass through on the first day of your trek).
Best Season
Spring (March-May) and Autumn (October-November) are the best seasons to do this trek. The monsoon season (June - early September) has less predictable weather, but some trekkers still choose this time as it aligns better with their vacation schedule. Winter season (December - February) gets quite cold, and snow may block the passes, but often offers clear skies.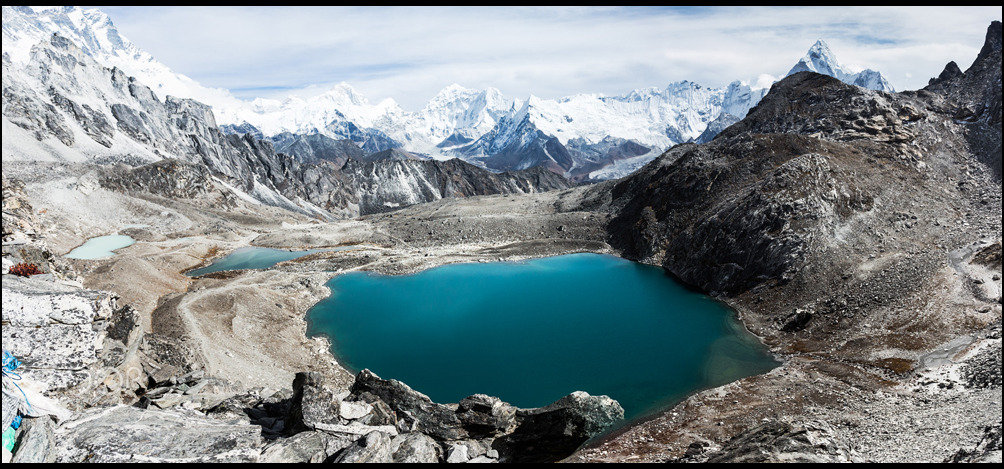 Difficulty
The three passes trek is rated "Challenging". It is a very serious adventure given its high pass crossings. It is more challenging than its sibling treks Everest Base Camp and Gokyo Lakes, but not quite as challenging as trekking peaks such as Island Peak and Mera Peak.
Accommodation & meals
The Everest Region has excellent infrastructure for trekkers. The teahouses (lodges) are of relatively high quality and they serve good meals, especially in Namche Bazar which you'll pass on the way up and down.
Variations
Generally, it's best to complete the Three Passes trek counter-clockwise. It is possible to go clockwise, as well, but not recommended due to the steep altitude gain of crossing the Renjo La, first. From Gokyo, you can also add an extra day to visit the remote Gokyo Lakes farther up the glacial valley.
Brief Itinerary
Day 1:  Arrival in Tribhuvan International Airport, Kathmandu (1300m/4264ft)
Day 2:  Fly to Lukla from Kathmandu and trek to Phakding (2651m/8700ft) 8km, 3 hrs trek
Day 3:  Phakding to Namche (3440m/11280ft) 11km, 6-7 hrs
Day 4:  Namche Acclimatization day or exploration day
Day 5:  Namche to Tengboche (3870m/12694ft) 10km, 5-6 hrs
Day 6:  Tengboche to Dingboche (4360m/14300ft) 9km, 5-6 hrs
Day 7:  Dingboche to Chhukung (4750m/15,580 ft), 3 – 4 hours
Day 8:  Chhukung: Climb Chhukung Ri (5,546m) and trek back to Chhukung, 3 – 4 hours
Day 9:  Cross to Kongma La pass (5535m/18,159ft), trek to Lobuche (4940m/16,210ft), 6 – 7 hours
Day 10:  Lobuche to Gorak Shep (5170 m/16,961ft), visit Everest Base Camp (5364 m/17,594 ft), 6-7 hours
Day 11:  Gorak Shep to Kala Patthar (5545 m/18,192 ft), then to Lobuche (4940 m/16,207 ft), 8 – 9 hours
Day 12:  Lobuche to Dzongla (4830m/15,850 ft),3 – 4 hours
Day 13:  Trek to Gokyo (4800m/15,580 ft) via Cho La pass (5368m/17,611 ft), 7 – 8 hours
Day 14:  Rest day in Gokyo: Climb Gokyo Ri (5357m/17,575 ft), tour 4th and 5th Gokyo lakes, 3 – 4 hours
Day 15:  Gokyo to Marlung (4210m/13,810 ft) via Renjo La Pass (5360m/17585 ft), 7 – 8 hours
Day 16:  Marlung to Namche Bazaar, 5 – 6 hours
Day 17:  Trek down to Lukla
Day 18:  Flight back to Kathmandu
Day 19: Full day Kathmandu Valley Sightseeing
Day 20:  Departure day
For more details, please click here