Your Happy Place! Community Group
Forget your troubles, come on get happy! Take a deep breath, let go of all your stress for a bit, and come have some fun. If you've been looking for YOUR HAPPY PLACE, look no further, here we are! Everyone's welcome!!

Ladybug7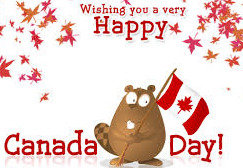 On July 1, Canadians commemorate the joining of Canada's original three provinces (Nova Scotia, New Brunswick, and the Canada province, which is now Ontario and Quebec) as one nation in 1867.  They celebrate by having parades, barbecues, fireworks displays, concerts, and also welcoming ceremonies for those who recently became citizens. 
Please join me in wishing our Canadian members a wonderful day!
Posts You May Be Interested In
The pastor entered his donkey in a race and it won.  The pastor was so pleased with the donkey that he entered it in the Race again, and it won again.The local paper read: PASTOR'S ASS OUT FRONT.The Bishop was so upset with this kind of publicity that he ordered the pastor not to enter the donkey in another race.The next day, the local paper headline read:BISHOP SCRATCHES PASTOR'S ASS.This was...