Your Happy Place! Community Group
Forget your troubles, come on get happy! Take a deep breath, let go of all your stress for a bit, and come have some fun. If you've been looking for YOUR HAPPY PLACE, look no further, here we are! Everyone's welcome!!


TES9579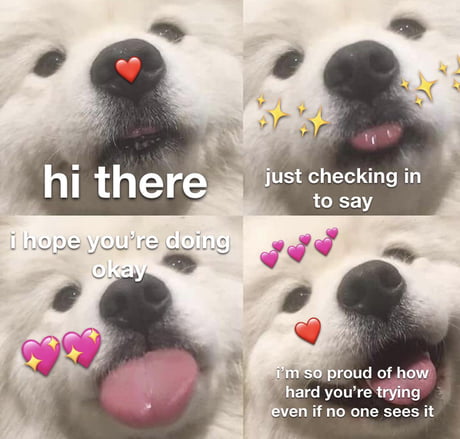 Hey guys!
So how are things in your neck of the woods? 
So another week is over... and somehow we're near the end of July already? Is it just me who feels like if it weren't for the weather you'd still assume it was March?!? It's so weird how ever since this pandemic started the days just drag and yet a month can go by in a flash - it's really throwing me for a loop and it's not just me - everyone in my house has forgotten what day of the week it was more than once this week. Mind you, I live with my senior parents who never fail to find a repeat of "match Game '74" on tv so every day feels like one bizarre "Groundhog Day" sort of timeloop for me anyway (the bass line from that theme song haunts my dreams now). How are you handling dealing with the ongoing pandemic?
I went to the doctor's earlier in the week because I needed a med change and we had to run some other tests and all that and I found it really weird that even though they're spacing people out in the waiting room it's not like anyone is cleaning the seats in between usage and I saw one guy filling out paperwork with a borrowed pen that he put right back in the stash of pens they had left out. They have it mapped out how far away you're supposd to stand from the front desk window but in order to actually speak with the receptionist you have to pass the line on the floor and you still have to hand things to the receptionist like insurance cards and such and before you even get to the doctor's office itself in the building you have to see someone at the front door who checks your temp, writes it down on a little post-it and gives it to you to give to the nurse - it's like they're taking certain measures but they don't go nearly far enough. I guess they figure so long as everyone wears a mask, but I saw several nurses and reception staff lowering their masks to speak on the phone and they don't use hand sanitizer or wash their hands after touching their masks...
Speaking of masks, I'm still having issues with keeping my glasses from fogging up when I have a mask on. Anyone got any tips? I actually asked the medical assistant while I was at the doctor's office because she was wearing glasses and she said something about washing them with soap and water but not fully drying them off so they retain some soapy film - has anyone else tried that? Does it work? 
So it's so ungodly hot here that the power went out twice yesterday afternoon - not for very long mind you, but long enough that my poor dog felt the need to retreat to his under-the-bed safety spot because to him the power going out is as bad as a thunderstorm or fireworks being set off really close to the house so he feels the need to hide. How's the weather where you are? 
I hope this finds you are doing okay, that everyone you love and care for is safe and (relatively) healthy, and that you haven't lost track of the days the way I have! Keep wearing your face masks and washing your hands... and keep hanging in there!
Hugs, 
Tess
Posts You May Be Interested In
had to wash my grates again from the grill....once the thing was in dry mode I got them out and started to heat them up after using brush on them as they did not really get everything off in the dishwasher....then I oiled them...and cooked a big tomahawk ribeye steak that was 2lbs....it was just a bit fatty and some of it had cooked more than others of it.....so I had some rare and some more well...