The Circle Community Group
The Circle is a Chronic Pain Support room known to it's members for their faithful, generous and outstanding support. Throw in a splash of humor to help you get through your days. New members welcome.

serenityha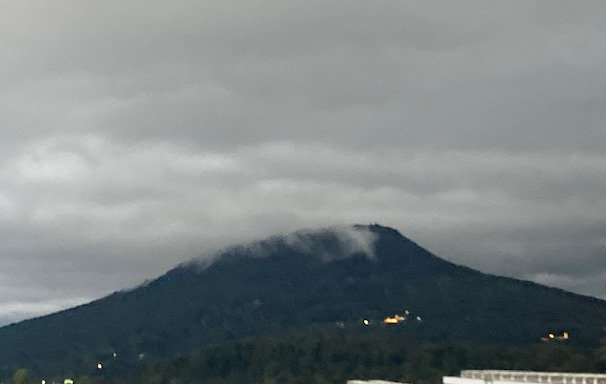 good day everyone,
i woke up woosey this morning. i think my blood sugar was low b/c i had that shakey, disoriented feeling of being weak. i barely made it to the coffee machine and then forgot to put the bqaking soda in, so it was acidic. it was pretty rough, but i'm trying after having a bite of peanut butter while i was mixing some up with cracker bits. and my squirrels came en masse today! they cleaned the balcony off in a flash even with extra out there. toni, i hope broen tail gets better. i bet yours would enjoy some pumpkin.
in the few hours i've been awake the skies have been changing rapidly. toni, those are my night lights in the first one still shining bright! in the second one there's the slightly famous Lookout Mountain which played part in the Civil War and still has cannons on it, but now they're in the yards of homes that were built around the 1930's. so now you know! those pics were just a minute apart and pretty close together in my panorama.
i'm trying to wake up and get less shakey, so i can go organize that damn pantry! those cars revving their engines are inspiring me lol. i wish i could start my motor like that! i've been putting things away in my own space and to get focused. i made a nice dinner last night of sauteed mahi mahi over salad and herb rice on the side. i ate 1/2 b/c it was a larger filet than i thought.
it's going to be very fall liike today. high only 66*! it feels great. the skies are suppposed to clear up and be mostly sunny. fall may stay this time. i''m going to pace myself at mother''s and hopefully not come home drained. i'll have dinnerr ready.
hugs in hope some sun and fun is in our day in any form!
Posts You May Be Interested In
good weekend all,the squirrels are in rare form today...a three way chase just went on and ted (shorted for crooked tail) won and is having his way with the sunflower seeds. they're so much fun to watch! and i start my day with laughter at their hijenks.i'm going to mother's today possibly to help her out with a little organizing in the kitchen or laundry room (catch all room!). hmmm, we'll have...

good friday everyone,i Japanese maple i saw yesterday that was just so beautiful and stumpy 1 (there's also stumpy 2 whose tail is shorter). so we're getting in the mid 70's today! toni, are you in the way of that storm hitting ny? they could get some bad weather.today is just bill and a trip to aldi and other errands after i clean a little here. i'm already feeling anxious about aan afternoon...