The Circle Community Group
The Circle is a Chronic Pain Support room known to it's members for their faithful, generous and outstanding support. Throw in a splash of humor to help you get through your days. New members welcome.

serenityha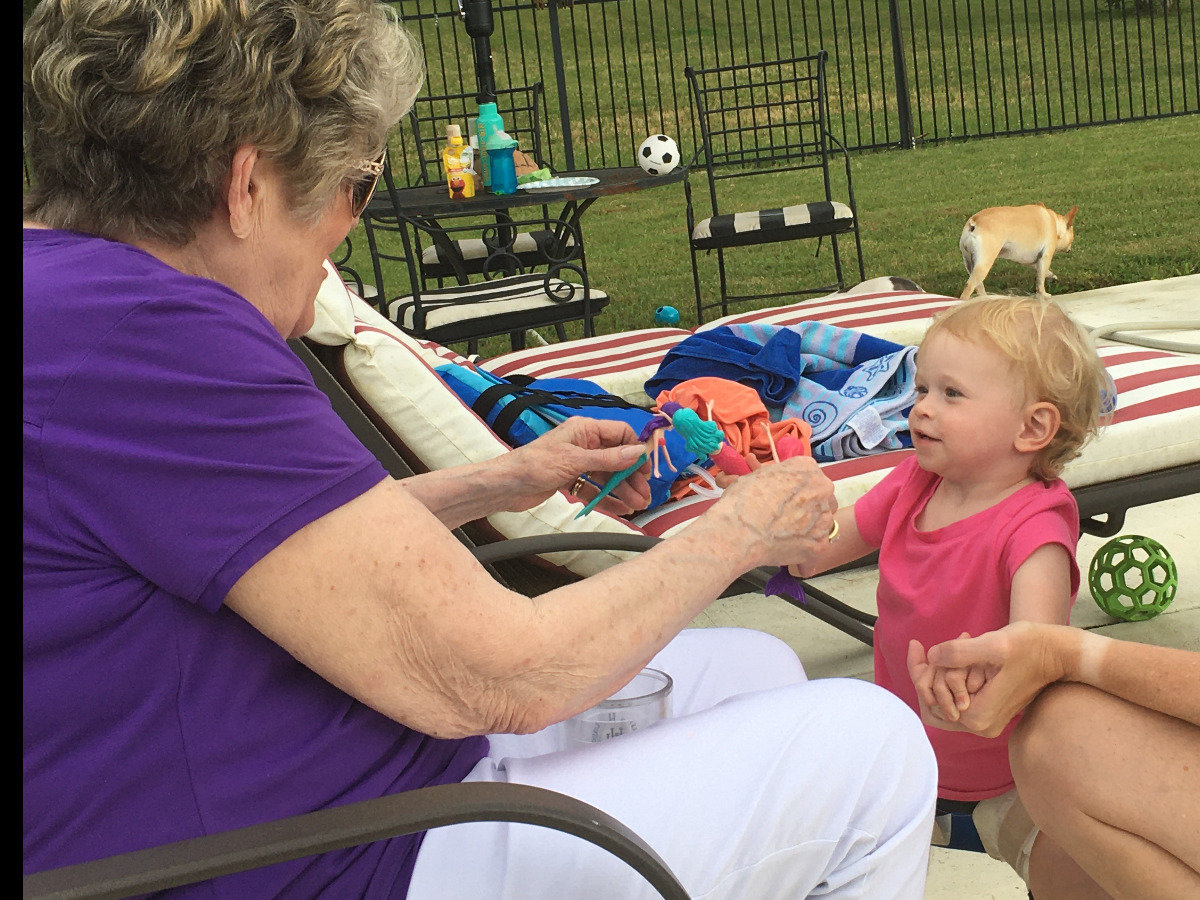 good morning all,
here's  one pic of my mother and trulee. she wanted to share her mermaid dolls with mother to play. she's the one in the hip brace which you can barely see. she's ready to walk, but has some trouble, but her legs will be strong enough when she's out of that thing. you just can't hold children back! her brother is in the pool with grandma (my sister). i think she had a great birthday surrounded by her family. it was a fun and exhausting day! we stayed later than expected, but we got back just before dark. i think mother enjoyed being a passenger and i'm happy to do the driving. my brother in law won't eat leftovers, so my sister made me two huge plates and then  some to bring home! i think i'll offer claire a plate.
i put out extra food for the squirrels before i left so they had leftovers this morning. they were on the balcony before i got up. there were four at once. moonie, i do have names for them they aren't very creative. it's mama, the twins are chip and dale, little for the one with the scarred tail, big daddy and a couple more.
that's so bad about your pillow.lthat's why i got so excited when i found one i loved - firm, but soft. it's incredible how hard it is to find the right pillow. i bought a memory foam and thought that was like a brick, so right back to the store. and they're expensive.
i'm still so tired from all the bending and getting the rollator through the baby gates and up and down stairs, but the pain stayed low the whole day! no spasms at all! it's so much fun seeing the little ones change from the last time and to see them recognize me. it's was a thoroughly enjoyable day and i shared your birthday wishes with my sister. thank you all!
happy father's day to all the dads out there.
hugs n hope that you all have a special sunday!
Posts You May Be Interested In
welcome to monday friends,a gardening bench is a great idea, toni. i have a couple of my aunt's that are antiques from england. they used to be a lot more popular. probably to protect their garments! save your back and all those muscles required to get up from the ground.moonie, i bet gardening hours are very limited in the temps you're having. glad you met some neighbors. maybe a shared dinner...

Hi allWell, what an evening we had. It was going to be the usual popcorn and movie night. My sister got knocked over by a white van down the shops which was reversing off the forecourt. She was coming over to see dad and had parked down our shops at the end of the road to go in and get something. The van knocked her backwads as she was right behind it. She said all of a sudden it was just there...