Laughter is the Best Medicine & So Are Friends Community Group
A place to laugh, share your thoughts, stories. We are all here to listen. Friends!

Solus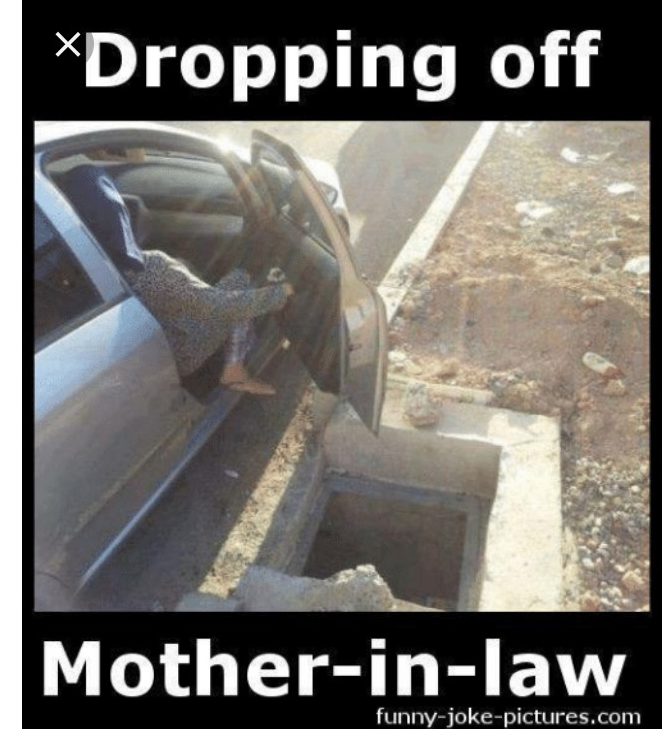 What is the difference between outlaws and in-laws? Outlaws are Wanted. 


A man, his wife and his mother-in-law went on vacation to the Holy Land. While they were there, the mother-in-law passed away. 
The undertaker told them, 'You can have her shipped home for £5,000, or you can bury her here in the Holy Land for £150.' 
The man thought about it and told him he would just have her shipped home. 
The undertaker asked, 'Why would you spend £5,000 to ship your mother-in-law home, when it would be wonderful to have her buried here and spend only £150?' 
The man replied, 'a man died here 2,000 years ago, was buried here, and three days later he rose from the dead. I just can't take that chance.'
A husband got his mother-in-law a cemetery plot for Christmas. It came with a coffin, tomb stone, the works. 
Next Christmas comes by and the husband doesn't get his MIL a gift. 
When the mother-in-law asks, "Why haven't I had a gift from you?" the husband says, "You haven't used the one I got you last year!"
Posts You May Be Interested In
When we're young , we sneak out of the house to go to parties,When we're older we sneak out of the party to get home.

Which rock anthem matches your personality?  Take this quiz and find out.  : )https://www.buzzfeed.com/sofia111/everyone-has-a-rock-anthem-that-matches-their-pers-alxvsdq9g7