Hyperthyroidism Support Group
Hyperthyroidism (or "overactive thyroid gland") is the clinical syndrome featuring weight loss (often accompanied by a ravenous appetite), fatigue, weakness, hyperactivity, irritability, apathy, depression, polyuria, and sweating. Additional symptoms may include palpitations and arrhythmias (notably atrial fibrillation), dyspnea, loss of libido, nausea, vomiting, and... Ruth22
Hi, 
I got my thyroid tests done last week and these were the results. It seems I have hyperthyroidism but I have not met an endocrinologist yet. My medicine specialist told me to take carbimazole 5 mg tabs twice a day, which I've been doing for the past 2 days. I have hyperthyroidism symptoms such as increased heart rate, weakness, restlessness and decreased concentration. But I'm confused because I am not heat intolerant. In fact I've always preferred being in warmer weather as opposed to the cold. Is this okay? And I've also been having tremors lately and my fingers are also slightly cyanosed. Are these also signs of hyperthyroidism? If anyone can shed some light on this, please help. ☺️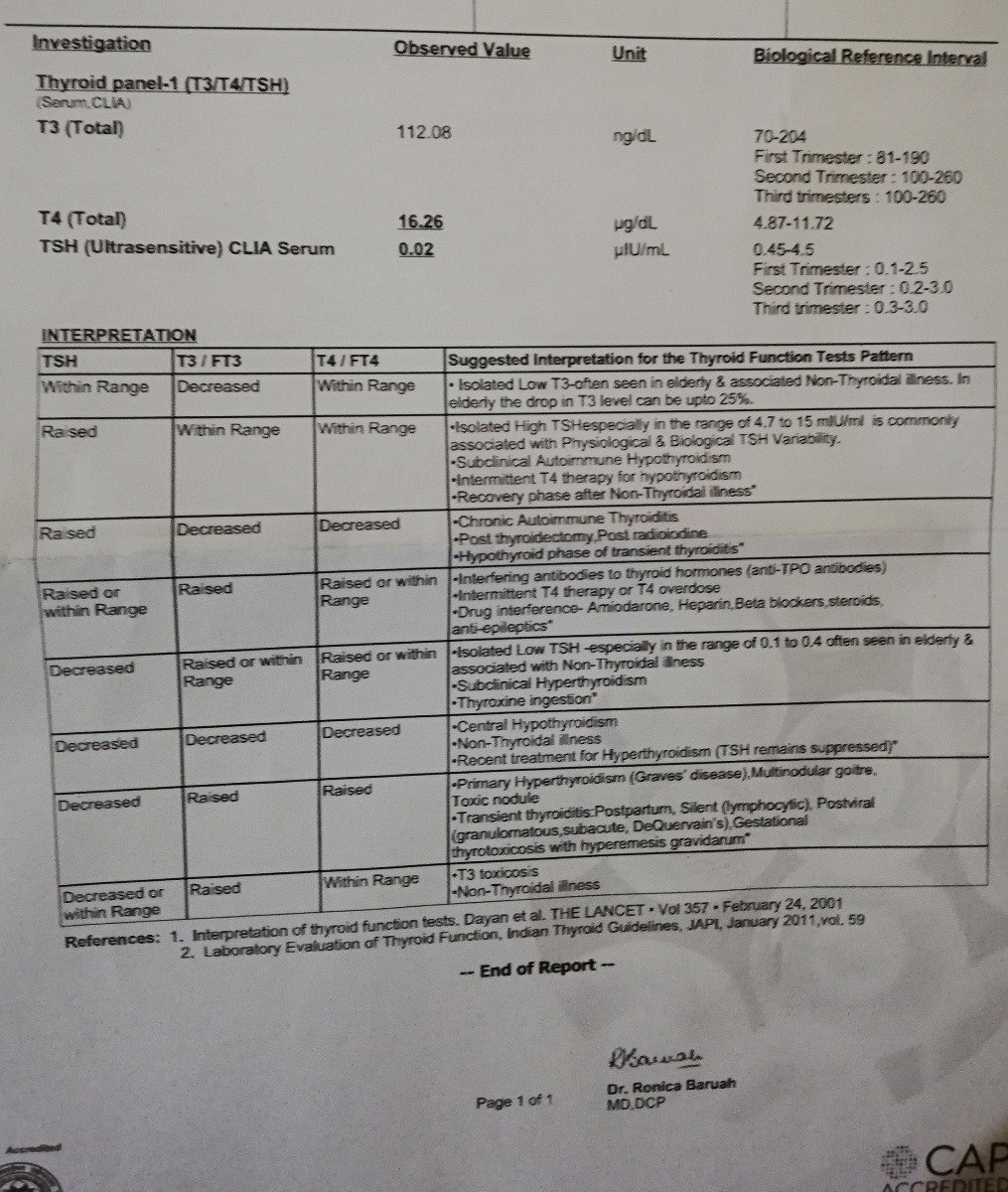 Posts You May Be Interested In
hi guys.k, just left the endo. Here are my new lab numbers:FREE T4: 2.85 ng/dL, Min-Max: .82-1.77Total T3: 388 ng/dL, Min-Max: 71-180TSH:

Hi - starting a new thread after my functional medicine appointment today.  As StillLearning and MMZ know, the endocrinologist yesterday said my thyroid levels were now in normal range, so I have a subclinical condition and she won't treat it, she wants to wait until I show symptoms and see which way the thyroid goes.  I had hope for the Functional Medicine Doctor, but after an hour and 1/2,...