helping with the housework Community Group
this is a group for those of us who are challenged by getting things around the house done....come tell us what has to be done and get support to and motivation to get that task done and brag about what you have gotten done daily! It is hard for some of us to begin an easy chore but when we are doing them and get them done do you not feel like telling someone? I do!
kitchen cabinets and top of cabinets cleaned out


billwfriend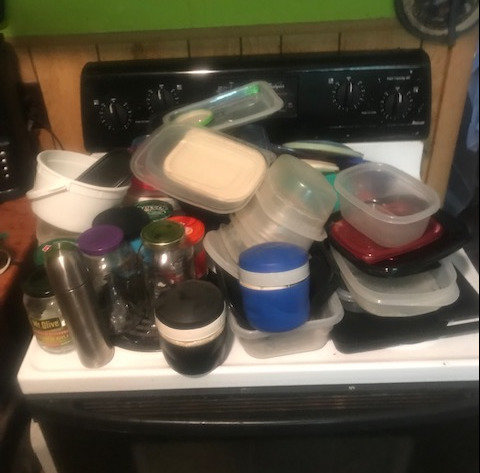 all this is plastic stuff that was jammed in the cabinets any which way and may or may not have a use of course now that I pulled it out I have two shelves cleaned and the top of cabinets where some of this stuff stayed has not only had this pulled off of it but I got the little two step ladder and my spray cleaner and got up there to remove the greasy dust that had fallen caking top of cabinets....it was a terrible place to put stuff...so nothing else going up on top now....
I also have my first load of laundry running after I got my nice warm shower today after noon news....it is 2:25pm now and I have more laundry and task of going thru this plastic junk decide which stays and which gots to go....and if it is something someone else would take free free free.....
I am clearing out the cabinets because it was terrible to try to get a container and not know where the lid was or if there was a lid that even fit the container I was trying to use....
this is progress! Yeay.....hopefully your not suffering the same organizational deficency I do with the regard to this type of stuff....just jam it in the cabinet worry later...
Posts You May Be Interested In
A husband and wife go visit a marriage counselor.First, the wife speaks to the counselor alone.The counselor asks, "You say you've been married 20 years, so what seems to be the problem?"The wife replies, "It's my husband -- he's driving me crazy! I'm going to leave him if he continues!""How does he drive you crazy?""For 20 years," she says, "he's been doing these stupid things. First, whenever...

Ahhh....that hit the spot!Badumpa! I will be doing stand up at the Improv on Friday nights in no time! LOL