Fibromyalgia Support Group
You're not alone in your pain. Fibromyalgia is a condition that can be difficult to diagnose and manage. If you're trying to cope with pain throughout your body, sleep problems, general fatigue, or other common fibromyalgia symptoms, you're in the right place. The community is here for you to talk about therapies and share your challenges.
What day is it? THursday Check-in

Leo
Good morning!
Mom came through her dental procedure quite well, tho' we still have to monitor for any infection risks, etc. They decided to consult her docs and got her something to help her sleep through  the procedure. She woke up minus a real tooth and with a new fake one implanted, and all she wanted was ice cream. OK, she's "normal". She also kicked me out. Won't speak to me a bit. Not the surgery. SHe's just angry that... uh... Y'know, I don't know. Sh ecouldn't kick the tooth doctor, and she won't go after my hubby, but me? I'm a safe target. Lord, to sleep another twelve-twenty-forty hours, y'know? 
I posted this elsewhere, but this really did happen. Copied and pasted here from a member group here on DS, and it's my tale. Tail. Whatever. Enjoy!

***

I took a nap. All quiet.
Something made me wake up. *ping* on my radar sort of thing.
I open my eyes and am looking right in the door of the bathroom attached to the bedroom. Into the eyes of the cat from next door. She's calmly "loaf" position on the bathmat, staring at me with her intense green eyes. "HI!"
What. The. What?!
OK. I went to sleep. Home alone, doors locked.
I wake up. Cat!
I sit up. I check. Yes, I'm awake. Cat is real. Cat is furry and purry.
House is silent. No one else here...
Panic! Chaos! Oh.... crap....
So I telephoned my husband and said, "Honey? Did you come home between 10 AM and 11 AM and not wake me?"
He said, "How'd you know?! I needed to pick iup my laptop."
I said, "LilMiss."
He said, "Huh?"
I said, "Let me guess. She got in, and you never noticed."
He replied, "She got in?"
OK, yep, answered that question.
The cat and I traded a look. We both sorta said, "OK, that's nice, let's go back to sleep."
So we did.:-)
No pix, but LOL, welcome to my life!
***
For the record? She's this little bundle of fur that usually lives around my house despite not being my cat...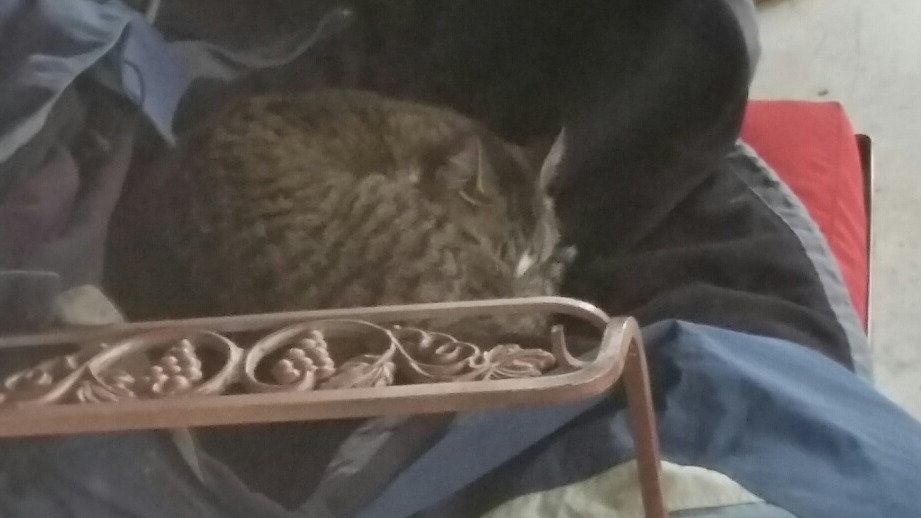 She only allows pictures when she's asleep. Otherwise, she's moving. At light speed, usually!
****
Warm furry day to all....
Posts You May Be Interested In
Good morning!I have wet-blanket brain: Heavy and useless.Ugh.So, anyway, for therapy, imagine you're this cat. You just took ove rthe world. Or, in this case, LilMiss took over my chair, with my blanket, and my U-shaped neck rest became her "seat". Welcome to myw orld. NotMyCat and apparently NotMyHouse anymore either...Purrs and puma power. I gotta go back to bed. Sorry. It's just too much...

is in the hospital with cellulitis in her leg....it is scary because it can spread to her whole body...she is 74 years old...i am way across the country,having to do that basically to escape my family-especially my middle brother.but i feel guilty not being able to see her,as complicated as our relationship is...i am really feeling very guilty.....