Fibromyalgia Support Group
You're not alone in your pain. Fibromyalgia is a condition that can be difficult to diagnose and manage. If you're trying to cope with pain throughout your body, sleep problems, general fatigue, or other common fibromyalgia symptoms, you're in the right place. The community is here for you to talk about therapies and share your challenges.
Thursday Therapy check-in

Leo
Today, folks, go ahead. Cry. Scream. Take the five-fifteen minutes and just let it rip. Let the weight of it all bend you down and stop you. Release those tears and let the biochemistry try to balance.
Another night of short sleep and long pain. Up at 330. "Freed" the cats. Dahlia had epic zoomies (at 430 AM) and then went on the porch and caught the only bug to infiltrate the Defense Grid, and brought it inside with a happy chirp of "Let's play!"... (Dead moth. Big dead moth. Really dead. I mean, big moth corpse. Damn.)
I struggle to bend at all, the left side is excruciatingly painful and I know this drill, lived this way 2011-2013, and it sucked then, and this just ain't been my year. We adopted cats about a year ago (happy Gotchaversary, kitties) and then I fell outta bed, got dog-attacked, shttered an arm, and moved a fridge to the detriment of my back muscle and subsequently destabillized my pelvis that was already scarred up enough on the inside...
And my mom's ... OK, she ain't her. Let's face truths here. THat's therapeutic. Truth: Mom's tumor killed Mom's selfhood. She's there body-wise, but her self-ness is way not who she was for the first 70 years of her life. That happens when a tumor the size of a tennis ball ends up in your brain. but it doesn't make it easier when she screams at *me* b/c someone *else* upset her... Almost five years of this now, and three since the tumor was discovered/removed, and zombie movies hold no horrors. I've got one in my life.
***
That said...
Here is the kind of moth my darling Dahlia brought me. Isn't she a nice girl? (BTW, watching Dixie swat at what I think i sthink air, then Dahlia materializes out of the dark, is actually pretty funny!) This is a yellow imperial moth. They are, as this image (from Wikipedia) shows, very good at imitating a big dead leaf. Yes, tehy're that big! 
May we all squish the metaphorical invading moths in our lives!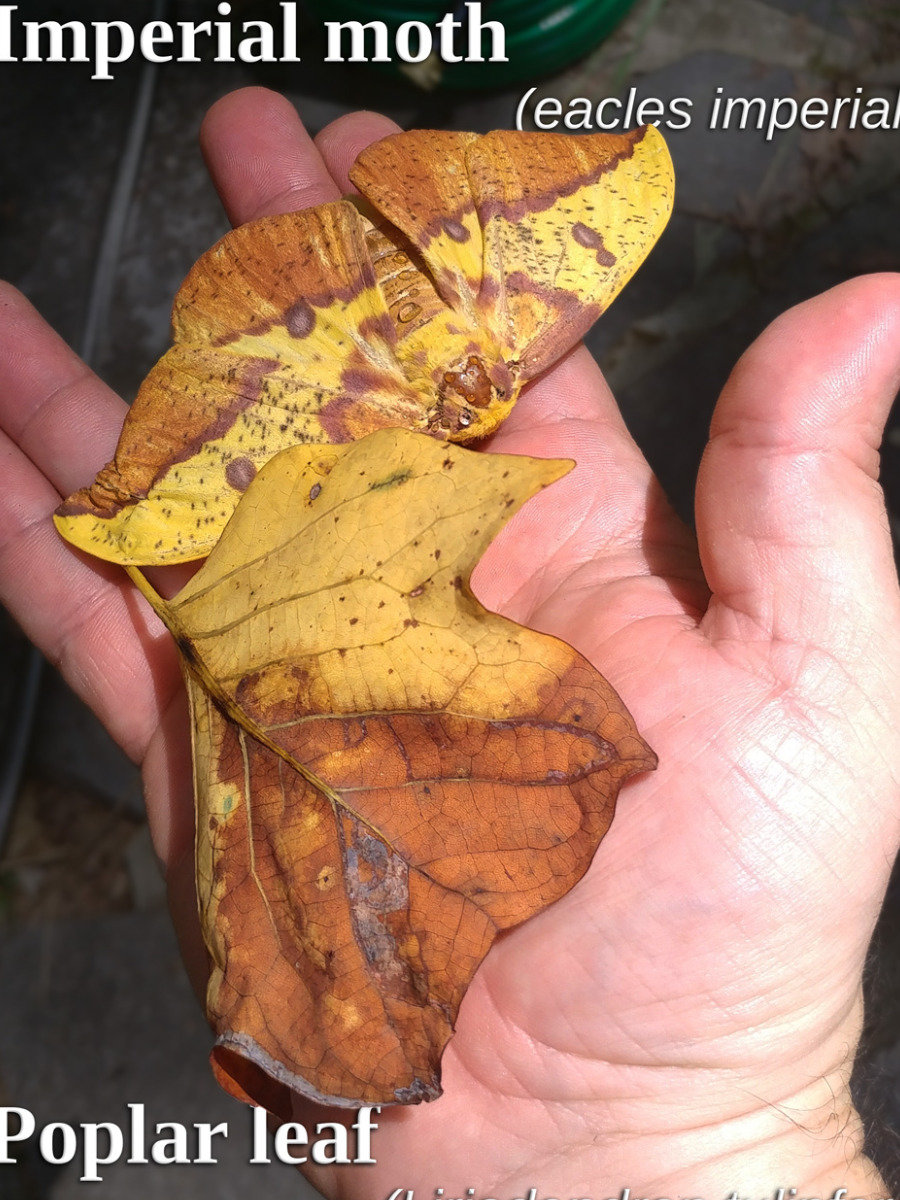 Posts You May Be Interested In
 I went to get more trigger point injections in my neck and shoulders. The doctor did more this time than he did last time. After the injections, My arms shoulders and neck have been sore for days, which is normal.But the problem is that I think the shots aggravated the peripheral neuropathy that I have in my arms and hands. Iimmediately after the shots the neuropathy, the pain, the numbness,...

Good morning! And it's been morning for me for a while. Alas.Four hours of sleep. Down at midnight (finally! the muscle relaxant kicked in and my back unkinked!)... and up when it wore off. Four hours. Ping! I see the doc again ASAP, but ASAP means "stand by for his phone call and run out door". Oh boy... As it's the weekend, I predict I will need another round of scar-scanning and so forth....