Fibromyalgia Support Group
You're not alone in your pain. Fibromyalgia is a condition that can be difficult to diagnose and manage. If you're trying to cope with pain throughout your body, sleep problems, general fatigue, or other common fibromyalgia symptoms, you're in the right place. The community is here for you to talk about therapies and share your challenges.
Thursday Therapy Check-in

Leo
Frankly, I'm so burned out I'm a little bit of match stick with all that crumbly black charcoal attached. Thus, good morning! ... I almost got sleep! ...
I can't cope with my mom. I wish I could walk away, all. Just... walk. Leave her as if she did die. That's horrible, right? I know! I know! I simply can't do this. Hubby has managed to achieve a marvelous amount of emotional distance, but me? And all this... I've no siblings, she drove off her brother and his kids/my cousins, local social services would blacklist her for being a pain in the a** if they could, it's that bad. And her latest stunts... I want to scream at all her doctors (all ten of them now!) and say, "If she's so bad, then why won't you sign off on her getting more help or something?!"  Because... Because... "Because... uh... not our job". Well, I'm the kid, not a battalion. Which is what people need in her condition(s).
I run full speed ahead and I'm in reverse anyway. But I can't stop. Hubby relies on me, the cats and critters rely on me, and when my friends need a good laugh and a hug, hey, I can't say, "Sorry, not up to it, eff off today, get me when I feel better." When willt hat be?
So that's my therapy.  I whinged.
***
Now, to real therapy: Laughter.
They're predicting a 50-50 chance of snow here on the weekend.
The mayhem has begun!
Bread! Milk! Eggs! Firewood! Candles! Quick! It's the Snowpocalypse! ...  Or they just panic. Whatevs.
See, where i grew up, it wasn't IF it snows. It was "We'll know how much it'll snow when it's over." Around here, it's "will it snow?"... And I just can't adjust. Twenty years or so, and still stuck in Northern Mindset. "If" with snow? Eh. I'll worry when the day arrives. I'm ready for a bad storm on any given day, just b/c of my upbringing, soooo.... Yeah, okay, it might snow. *yawn* Hope it does. I can sleep in!:-)
And that, folks, is how I'll spend the next 48 hours. Watching people run around in a panic over something that will probalby not occur. Unless you live up the mountain a bit... in whcih case, please prepare, b/c they'll plow your road in April... Which is how I grew up, and so I get that...
Yeah. I know. I'm a wandering mess. Sorry. I just fail to see whyt hey get food that need sto be cooked. What good are eggs if you lose power? I mean, I hard-boil half a dozen or so before any big predicted storm event (such as hurricanes) but I really don't see raw eggs as a great option during bad weather. Are they planning to eat French toast the whole time, power outages and all?
The mystery continues...
***
Meanwhile, here is darling Dahlia. Dixie at this time was off-photo-frame, attacking a piece of cardboard. Dalhia's expression about sums it up: "I observe you with affection, and confusion!"
PURRS to your Thursday!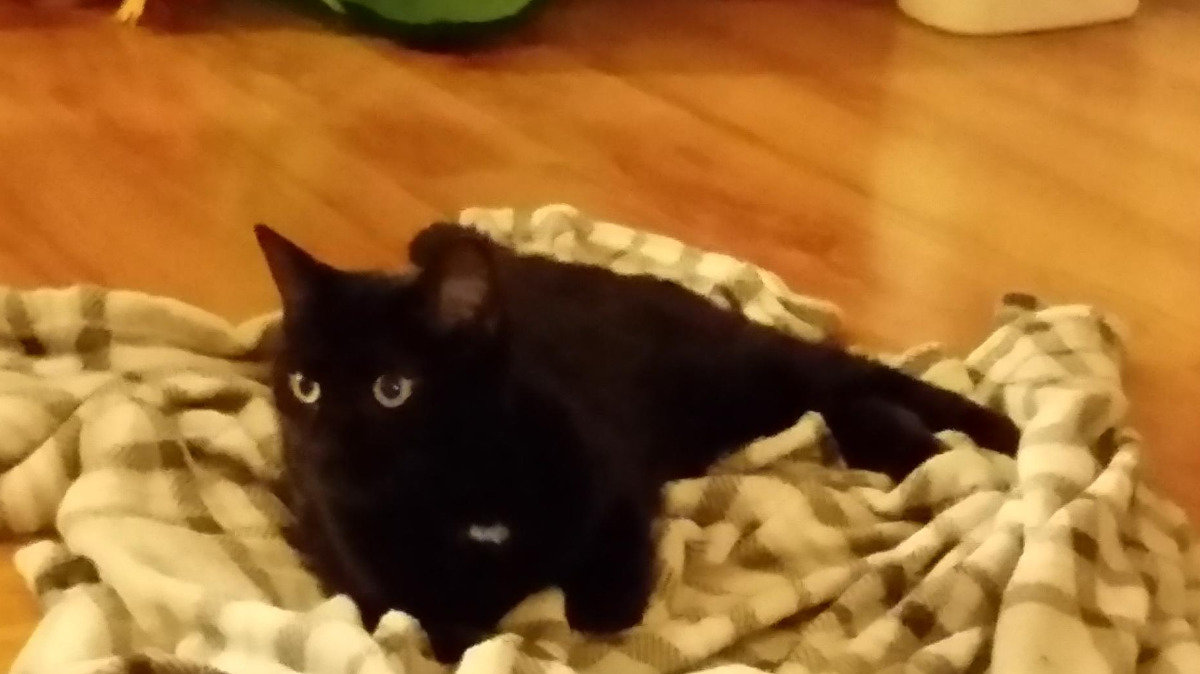 Posts You May Be Interested In
Everyone has a potato chip flavor that matches their personality.  What's yours?http://quizly.co/what-potato-chip-flavor-are-you/

Coffee?Tea?Hot Chocolate?Cider?Warm Broth/Soup?