Fibromyalgia Support Group
You're not alone in your pain. Fibromyalgia is a condition that can be difficult to diagnose and manage. If you're trying to cope with pain throughout your body, sleep problems, general fatigue, or other common fibromyalgia symptoms, you're in the right place. The community is here for you to talk about therapies and share your challenges.
Therapy Thursday ideas Check-in

Leo
So, what's good therapy for YOU?
Right now, I am out of ideas. Life is not getting easier/simpler. I'm scared, basically. Someone my hubby kenw trhough work a few years ago texted him threatening last night, out of nowhere. Like, literally, NOwhere. Hubby has had to swithc phones b/c his old one fried, and so didn't have the person on contact list, so the name didn't show up, and the first text was weird enough, then it got scary. But who do we call when the person making the threats is a *cop*? And since he's a cop, safe bet yes, we automatically feel scared. He's a friggin' cop, texting wild-as-f*** stuff to someone he hasn't seen in years, and cops around here are pretty much poster boys for "why police aren't trustworthy". Who we gonna call, ghostbusters?!
So my therapy is hiding and crying. Yeah, great therapy, right? *sigh* I know. I know.
***
What is 'biofeedback'? It was popular in the 1970s, then faded, but it's back with a vengeance these days. They attach sensors and tell you when your body is reacting "negatively", so you can train yourself to "do opposite" is the short version. For the long one: https://www.mayoclinic.org/tests-procedures/biofeedback/about/pac-20384664
(Note: For breathing, I found yoga way cheaper, easier, and at-home. A lot of this doesn't require the electrodes, IMO. But that's *my* opinion. Probably b/c I've got damaged nerves in a few places, so the sensors can't tell my ass from my elbow, LOL.)
Since 1 in 5 adults in the US currently suffer chronic pain of some sort, you'd think we'd have more options than th eusual, but believe it or not, here we are:
Heat
Cold
Massage
Yoga
Warm water pool therapy
Meditation
Art/music therapy
Acupuncture
Cognitive behavioral therapy (learn to cope better, essentially)
WHAT TO AVOID:
Cupping. Please. At home, by pros, don't matter, the science isn't there, and it can leave dangerous repetitive bruising in an area, thus leading to damage, and who needs that? No one! The main reason athletes use it is b/c the cups are heated, so basically it's warm suction cups. This can lead to first-degree burns, too, FYI, and later can lead to overactive localized inflammatory response. The science says NO. It's psychosomatic if it's anything.
What to think about:
Heat some rocks in hot water and set 'em on your sore points. Cheaper, less dangerous. (I recommend river pebbles, large, from the craft store. I lie flat and my hubby sets them along my spine to either side of the actual spine; I do the same for him. The rocks are heated in 130*F/54*C water for ten minutes, and you have a towel between you and them to prevent scalding. Fold towel over rocks to hold in heat, relax. You can also lie on the rocks. I do that, too.)  Ten bucks total,  if you live where smooth flat large pebbles are hard to find. (Like me. Spiky rocks here. Ow ow ow.)
****
There we go. It's 2021 and the suggestions are the same as in 2000.
So that's why I send you the fuzzy warm vibes from this photo, b/c it's way better than spending money: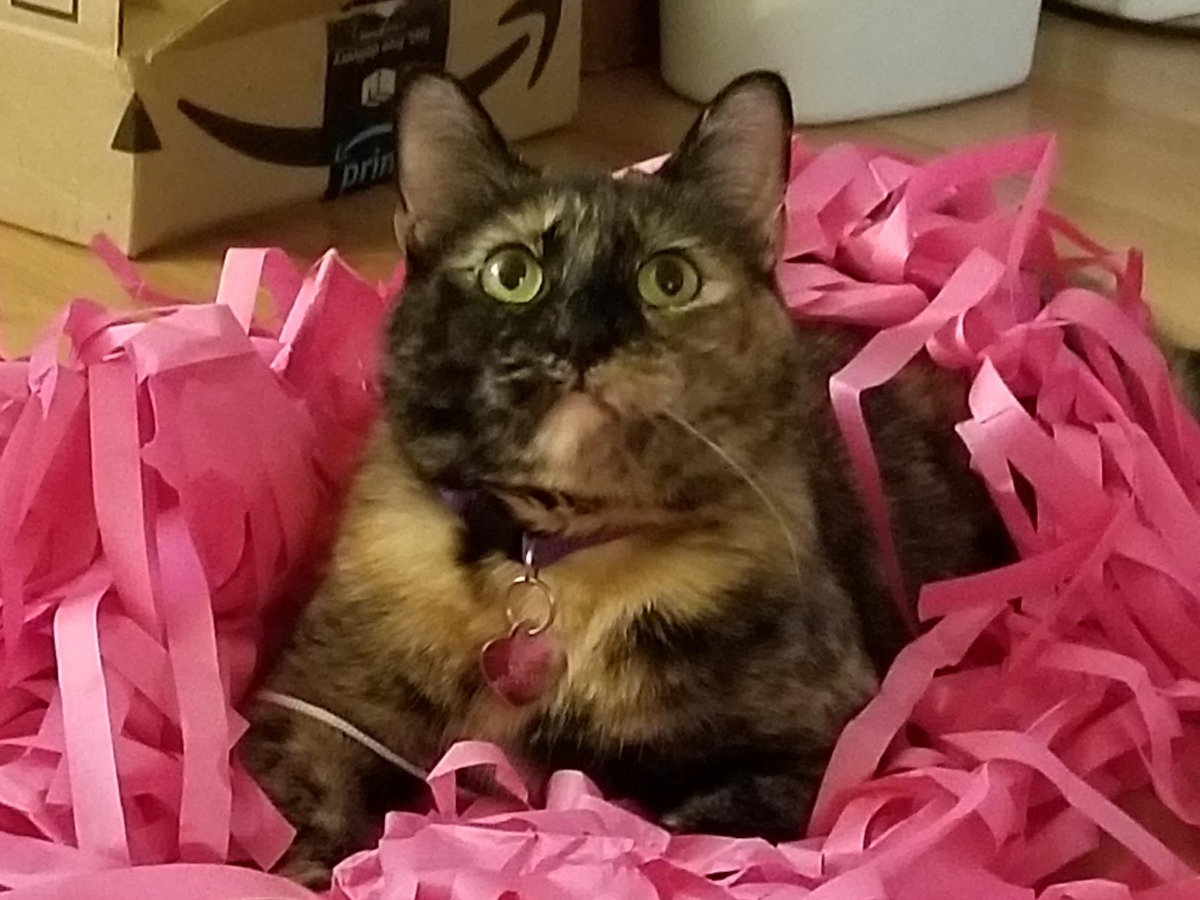 Posts You May Be Interested In
Today my hubby woke up promptly at 7 AM, ate breakfast, did his exerrcises, then walked up to me and said, "It's Saturday isn't it.""Yes," I said.And now my hubby is pouting b/c he woke up early on a weekend, as if he actually does this on a weekday, LOL.***Turn on the the sound of a David Attenborough nature special in Africa, and itturns out my cats love to listen to hyenas. They're utterly...

I am sitting here crying and shaking and just cant deal anymore with all the stress!!!!!!!!! I took a kllonopin but it takes  abit tokick in and i just hate this! Matt wont be home for an hour and i just am overhwlmed. what if friends dont show up to help us move tomorrow? Our tv got smashed today and what i wrote in my jounral about someone i trusted blabbing about me and telling people not to...