Fibromyalgia Support Group
You're not alone in your pain. Fibromyalgia is a condition that can be difficult to diagnose and manage. If you're trying to cope with pain throughout your body, sleep problems, general fatigue, or other common fibromyalgia symptoms, you're in the right place. The community is here for you to talk about therapies and share your challenges.
That moment Wednesday Check-in

Leo
Running late today but here's what I rolled over and saw.... Yes, that's a cat. And, yes, she lets us pet the tummy. She demands it, in fact. So, yeah, she's weird.
Interesting fact: I have a black cat, which is supposedly bad luck in many Western cultures BUT in Germany, tortie cats (like the one below) are called Gluckskatzen ---- lucky cats! (The u in that has an umlaut.)
Why do they get these markings? Well, think about the fact that in the wild, most wild felines have stripes or spots. Camo! Most domestic house cat markings can serve as same, although tabby-tiger markings are the default ---- just as in dogs, a solid coat is BAD!
Why?
CAMO! If you look at wild canines ----- foxes, hyenas, wolves, pick one ---- most follow something called "Thayer's law" ----- darker fur on top, lighter on the belly. When they lie down, they are harder to spot in shadows against the usual background of their territory. Red foxes, FYI, blend in great against forest floors of deciduous leaves from *last* fall, and often are a combo fo red and grays ---- sorry, Disney! no, a fox ain't red tip to toe. In fact, th ered fox can be amber to black in coat, on the same fox, as I can attest, having seen several in teh wild.
Wolves, of course, are generally gray ---- b/c they're often in forest and tundra, and shadow is their friend. Hyenas, like many animals in Africa, can be spotted or striped. Dingos? Yep, not solid. Dholes of south Asia? Nope, not solid all over.
Why? Colors we see in domesticated animals are bad in the wild. Solid colors, particularly. Unles sit's winter in the arctic. And arctic foxes are only white in winter.
So... here's a CAMO CAT! ....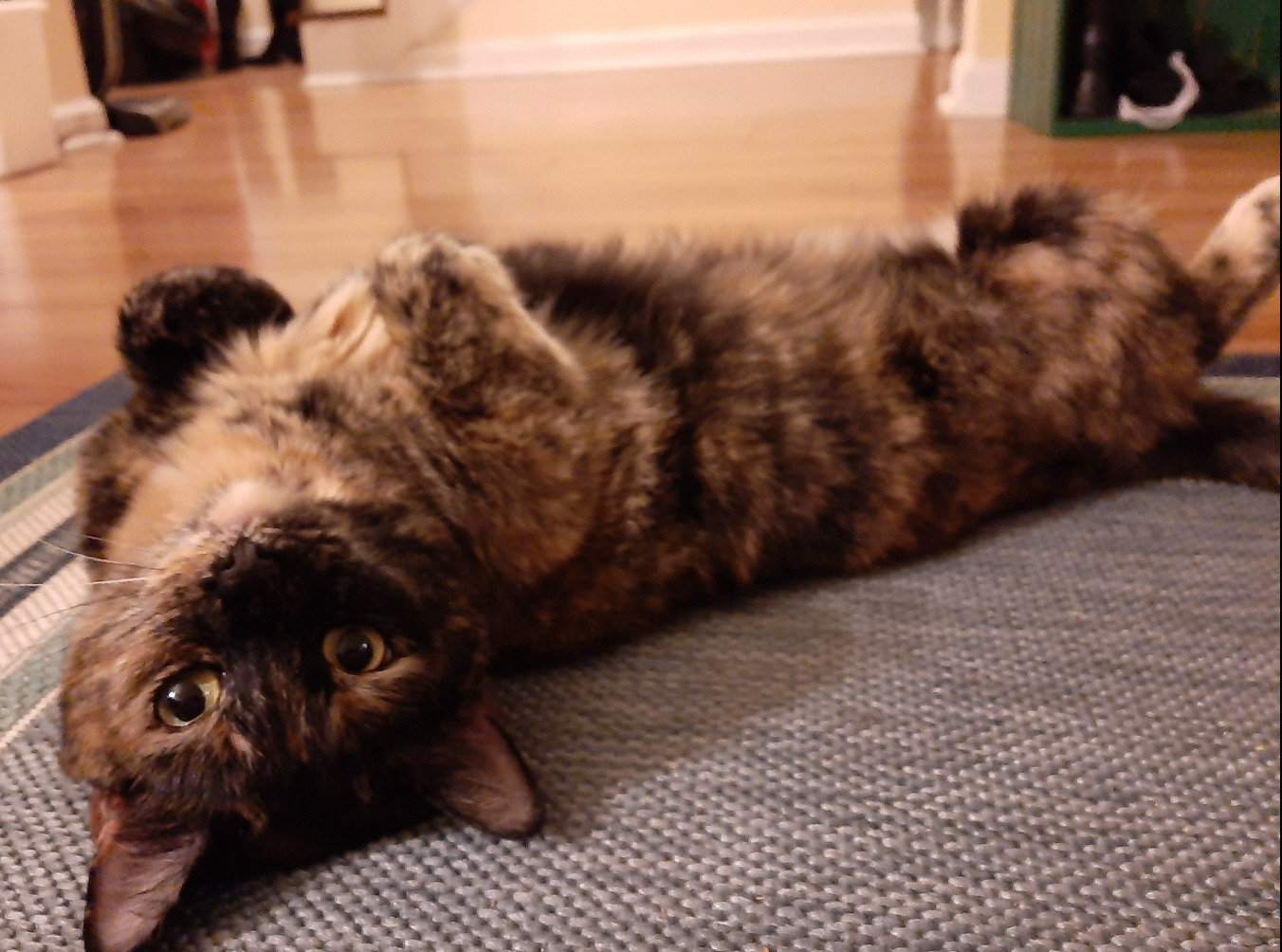 Posts You May Be Interested In
Had my sleep Dr appointment online Tuesday.  I have been using a CPAP about 16 years .  Been seeing this sleep Dr ? 5 or 6 years.  Anyhow , she asked me about napping and I told her not every day but I do nap sometimes when I need to for my well being.  She says you shouldn't nap.  I say that is not going to happen.  She says well if you do nap set an alarm for 20 minutes to wake up.  My...

In a nutshell, super early doc app't, and this, so, yeah...https://www.youtube.com/watch?v=Qi80jNEsC8oGreat Thursday to all :-)