Fibromyalgia Support Group
You're not alone in your pain. Fibromyalgia is a condition that can be difficult to diagnose and manage. If you're trying to cope with pain throughout your body, sleep problems, general fatigue, or other common fibromyalgia symptoms, you're in the right place. The community is here for you to talk about therapies and share your challenges.
TGIFriday... Send a boat? Check-in

Leo
Hi, all. I am on bedrest till... uh... Sunday or Monday. I had two partially entrapped sciatic nerves with strained hamstrings. Ah, that'd explain why everything waist down felt like flames and demons. Got it. All my ditch-digging plus a last straw (just assume Hubby reallllly feels guilty he left me to do that work)... My scarring inflamed, and my soft tissues twisted, and the stretch I did that should help? Wrong one. Oops?
My No-Do list:
Bend over
Bend down
Sit normal
Vacuum
Laundry
Put away anywthing below my waist  in cupboards...
Yeah.
I am already bored freaking senseless.
And I hate this, b/c if your butt hurts, and you can't curl up, or lie on your sides, wth do you do?
Lie on your butt. Which is, of course, a seriously problem when your pain is in your butt.
My nerves are "released" but they're angry. I'm talking "stepped on a rattlesnake" angry. Ow.
So...
More rain coming. Another three inches maybe. We've had about half our annual precipitation average in the last 17 days. And Hubby won't take any more measures, b/c he'd have to do it, and I'd be on my butt. My very very angry butt.  Tha tmakes even my feet think they hurt. Ugh. Sciatic nerves.
I know what will help lnog-term, but he won't even agree to a short-term help on our flooded yards. *sigh* I guess if it's not within a few feet of the house, he sees no issue with it. I do, but I'm farm girl, he's suburb boy, and sometimes, we can't bridge the subculture gap.
On the plus side, clouds mean lower temperatures! :-) No sauna!
***
And, yes, we've had cats. Who the hell let any animal out with this forecast?!
***
This is an old meme but it struck me funny anew today.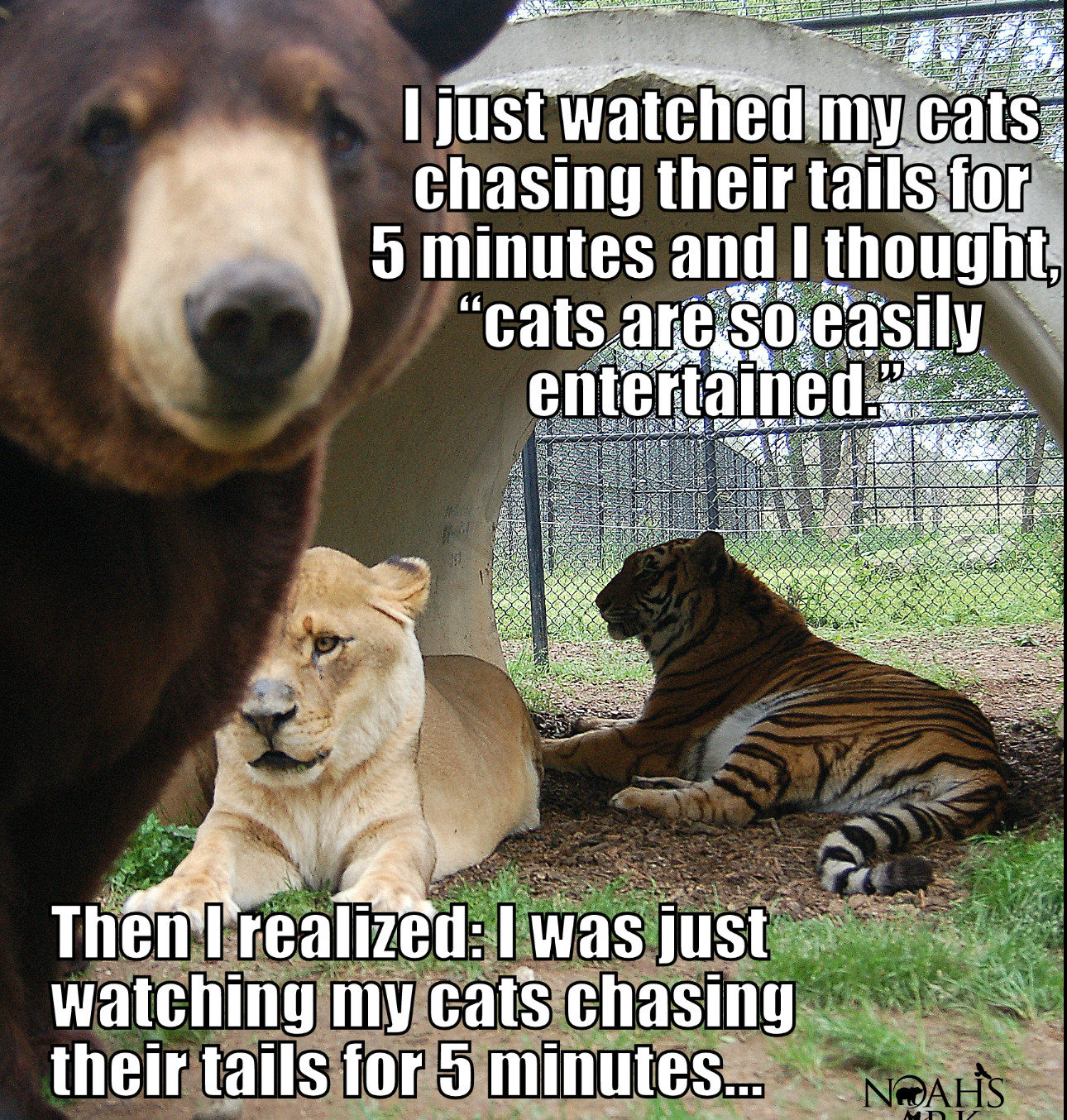 Posts You May Be Interested In
Hello!I am in agony.Dr. Thor HammerThumb got me neck to knees.I can't move.I see a new physiotherapist for tissue stuff in a few weeks. The doc signed off, b/c it'll save us money and he knows the person and trusts them to do right. We'll see. And I'm in hell here. Of course, the waether changed right along with HammerThumb. *whimper*I'm also experiencing the strangest sleep issue. My brain races...

What simple things make you happy?I have chipmunks that come up my front steps to get peanuts from me.  Squirrels too but they don't take from my hand yet....  But seeing them pouch that peanut and then another and then run off....makes me smile.