Fibromyalgia Support Group
You're not alone in your pain. Fibromyalgia is a condition that can be difficult to diagnose and manage. If you're trying to cope with pain throughout your body, sleep problems, general fatigue, or other common fibromyalgia symptoms, you're in the right place. The community is here for you to talk about therapies and share your challenges.
TGIFriday check-in quickie

Leo
Dahlia isn't 100% well, so we're taking her to the vet. They can't get an app't, but we can get her seen "as possible" (pray someone runs late) if we drop her at opening and then pray.
She's mostly normal, but she has a winky/runny eye and was not her usual self. Appetite/thirst/litterbox normal, but you know  how it is ----  let's not have her get REALLY sick on a weekend, please!
***
Mystery solved! Why did I get "round two" of a vacacine reaction ----- PMS. Yep. Ye olde hormones made me susceptible. Figures. Of course, being that special age, not like I could PREDICT that one. I feel PMS-y 3/4 of the time anyway. *shrug* C'est la vie. Ironically, the best time to get antibodies going is DURING one's period (sorry, guys, I have to discuss this, and if you're gonna be near any human females, you need to know, too). We have elevated antibodies during menstrual flow, but not so much during PMS.
Oddly enough, this only holds true for SOME women. I'm one of 'em. Always have been. OK. If you are one of them, too, then there you go. If not, lucky you! :-)  hormones plus immune system = ??? sometimes.
In fact, fluctuating hormones also affect our blood sugar and insulin reactions, too. Yay?
Irony, btw, is that I eat the super-healthy lifestyle vegetarian complex-carb/seeds/grains/veggies life, and still get hammered sometimes by life. I really dread what life would be like if I ate processed food. *shiver* No thanks!
Why si this, btw?
Well, our immune systems respond (brace yourselves, gentlemen readers) to... uh... facilitate pregnancy and then get rid of useless stuff ASAP if there is no pregnancy. Basically, immune cycles in women who menstruate are tied to the hormone fluctuations. Smaller in some than in others, but that's always true. Age, exercise, stress, also affect it, and it's not like anyone's been really stressed, right? (LOL.)
****
OK, off to wrangle Dahlia into her carrier. She's perked up after eating her cat grass and a drink of water, but she was not playful or mouthy last evening. With that cat, that's like sending up signal flares. Dixie is always moody like that. Dahlia not play or chirp? WARNING.
PS: No, her third eyelid isn't swollen enough to notice, no nasal discharge, sneezes, etc., just runny/winky eye. Better safe than sorry.
HUGS TO ALL
And this is the tortie Tricksy Dixie watching me gently wipe Dahlia's eye. Hubby thinks she was plotting to be an "only child"....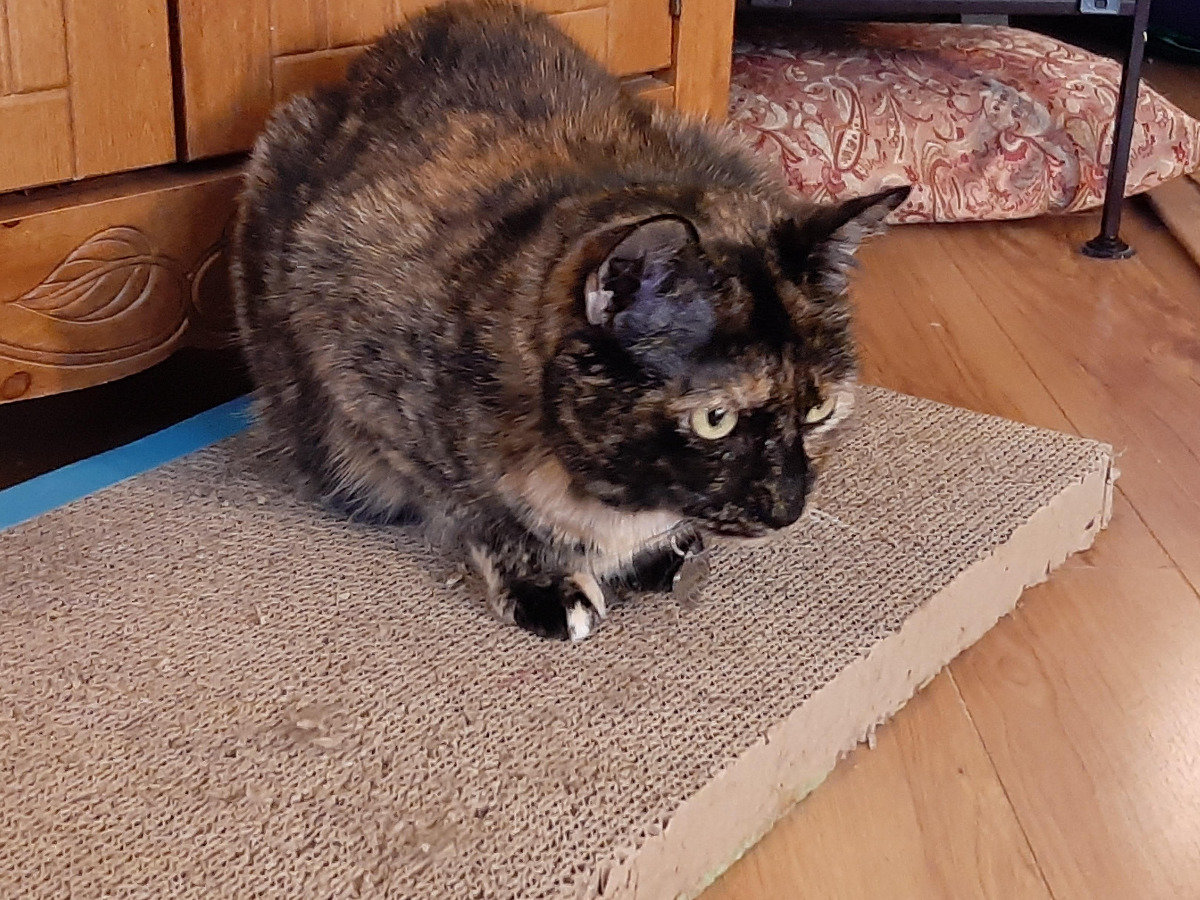 Posts You May Be Interested In
Wow, I am doing... well, rotten, really, LOL.Weather change. Stress. PTSD stuff. I am terrified to see Mom this Sunday for Mothers Day. I just don't want to see her. I don't want to see that she needs rescue, and have to walk away from it. I don't want to see her treat us badly for doing better by her than she did by *her* mother. And now our next-door is bitching at Hubby about somethign we do,...

Been awake since 230 am again from nightmares/flashbacks of seeing dad on life support over teh ipad when he was dying. I miss him so bad i keep breaking down..................I want my Daddy back!!!!!!!!!!!!! But heathy!!!!!!! Sunday is mothers day, my angel babies are in heaven all 4. I cant take this pain from losing so many its so hard!!!!!!! My heart is just shattered right now..............