Fibromyalgia Support Group
You're not alone in your pain. Fibromyalgia is a condition that can be difficult to diagnose and manage. If you're trying to cope with pain throughout your body, sleep problems, general fatigue, or other common fibromyalgia symptoms, you're in the right place. The community is here for you to talk about therapies and share your challenges.

Leo
And then it's American Thanksgiving... 11/26/2020. Which, if you add all the digits comes out to fourteen. That's just a random observation. No reason.
***
How cute is my cat? Well, she's seen us pull at a door to open it, and so she tries to pull it open. Of course, she can't, but she's very determined. Irony? She can push through it a lot easier. But in her observations of us, it's a pull-to-open. Ergo, she must learn this! Yeah. If she gets thumbs, we are *doomed*.
What's on sale at your local grocery store? At mine? Sweet potatoes and brown sugar. Heaps of them. Eek.
Did you know storing potatoes in the light can cause them to "green"? Yep. They start producing chlorophyll (hence the green color) and a fun little chemical called solanine. Why is taht bad? It's a toxin, and if it covers too much of the potato? Don't eat the tater. Toss it. It's not dangerous in tiny amounts, and if you cut away the green parts, you're typically safe... but if you do get a good dose of solanine, you'll regret it. A lot. The chlorophyll signals the presence of the solanine, which is colorless.
Solanine gets its name from the genus of plants in which it's believed most common: Solanum. Eggplant, tomato, potato, etc. although it is usually in the parts humans nver eat.
The Solanum genus includes deadly nightshade, and decorative plants like winter cherry and kangaroo apple. I never heard of that last one, either, but I'm not from Down Under. Turns out it has lovely five-petaled flowers.
Plants in the Solanum genus are generally noticeable, being flowering, and/or deadly, and/or annoying.

The "wild potato" is in the genus Solanum, and while the tuber is edible, you have to leach out the solanine and then boil 'em, and possibly other things. THe "wild potato" is small, and, yes, related to the domesticated (thank you, Native American tribes!) potato. What, you thought white people did that? Nope. Potatoes in many varieties, without the poison risk, were already under cultivation when the whites showed up in the Americas, as were tomatoes and wild cousins like groundcherry, and maize. Selective breeding and patience... And patience... and patience... The potato went on to become a staple virtually worldwide, or at least wherever Europeans ended up for any long period, and tomatoes are also found all over.
Yep. Italy had no tomato sauces until relatively recently in its history. Ireland had no potatoes. You get the drift.
On which note..
***
I have two banged up swollen knees for no reason other than "overdid it too many days in a row" and Hubby isn't around for "heavy lifting" and I do lift with my knees. Turns out, they can't lift heavy stuff either. Well, shit.
LOVE HUGS PUMA POWER!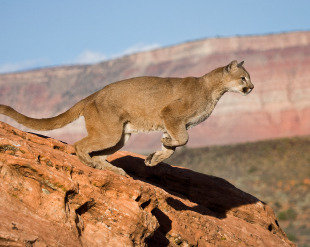 Posts You May Be Interested In
Fantastic pickin them on a most difficult week to our first time winner GramyBear who with 11 points wins the week by 2 points.  Great job as Sadie Ann is bringing you some great luck. Also impressive tally with 9 points to our runnerupps Lesa and Leo.  Great job to both of you and to everyone thanks so much for being part of the excitement.  I really think someone will come from behind and...

.From Dr. Nicholas Jenner on his onlinetherapist.blog"I am convinced that codependents come into adulthood seeking the basic connection with others that they failed to find with their parents.In a process of compulsion repetition, they engage in relationships with people similar to their caregivers, trying to solve the original problem.In the specific case of codependency, this means...