Fibromyalgia Support Group
You're not alone in your pain. Fibromyalgia is a condition that can be difficult to diagnose and manage. If you're trying to cope with pain throughout your body, sleep problems, general fatigue, or other common fibromyalgia symptoms, you're in the right place. The community is here for you to talk about therapies and share your challenges.

Leo
Good morning! Hope everyone had as good a weekend as possible:-)
Well, another day at the zoo. Feeling quite cranky and out of sorts. Monday. Cats underfoot. Pollen all over like grease in a fryer. Just one of *those* days, y'know?
***
I am reading "Code Girls" by Liza Mundy. It's informative and easy to read. About women code-breakerrs in WW2. ONe reason they got the job? The generals didn't think men could (should) handle that sort of tedious clerical stuff. Turns out, of course, that's clerical code transcription, but there's also genuine code-breaking, and women realizing that co-workers are bloody annoying, etc. (Which factory workers knew, but the more genteel class of "educated" gals hadn't run into before as schoolteachers, or so forth.)
***
Hard to believe, but Ebbets Field opened up today in 1913 as home to the then-Brooklyn Dodgers.
In 1945, the NFL had to issue this odd rule: All players had to wear socks in a regulation game. (?!)
In 1959 the NBA team Boston Celtics won the first of an epic *eight* consecutive NBA championship titles. Can you freaking imagine? Eight in a row? Whoa.
IN the year 193 CE/AD, as you prefer, Septimus Severus was hailed by his army in the Balkans (then referred to as Illyricum) as the new Roman emperor. He remained such until 211, which was  apretty long stretch in the tumultuous years of the Roman Empire. Born in Rome's African Province (more or less today's Libyan coast and adjacent region), Septimus was a quasi-protege of the famed thinking emperor Marcus Aurelius, and the guy who followed him (Commodus).
Since 193 was the Year of FIve Emperors --- superceding the Year of FOur Emperors about a century and some earlier, which gives you an idea how generals gecame emperors (in rapid succession) --- Septimus Severus was the one to, ah, shall we say, "end" that year and stick around. When his dynasty died out in the 230s, it heralded "The Crisis of the Third CEntury". Yeah. Fun times.
Meanwhile, flash forward a long time, and in 1967, Boeing rolled out its now-ubiquitous 737.
***
And on that note, I'm going to go deal with... Uh... Y'know, I don't even know. It's Monday, ti's not even 730AM here, forget it.  I'm with this cat. (Maury, died 2016, age-related issues with his kidneys. As you can see, he was pretty chill.)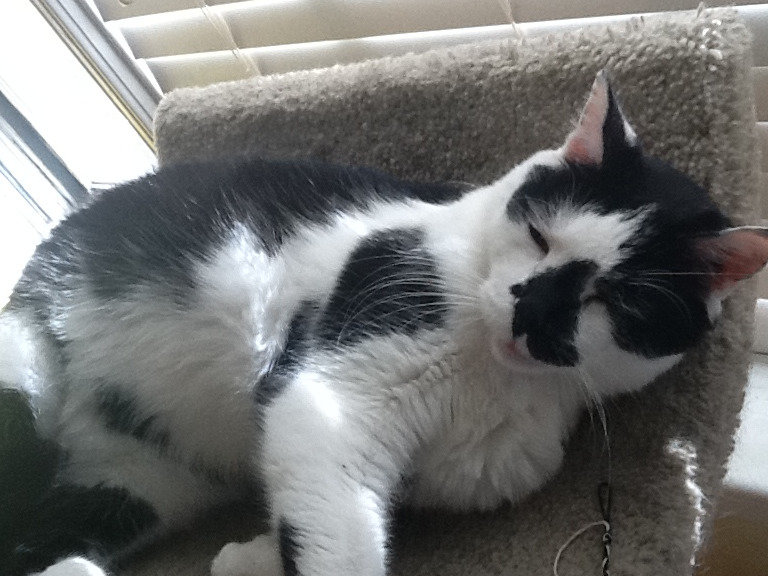 Posts You May Be Interested In
A huge welcome to veggiequeen     who picked her games for the very first time this weekend and did quite well.  Great to have you. Congratulations to our weekly winners;  Cedarbrooke, Lesa, attester, Willgord, Pebblebeach, kasandra, cloverset and Lukie which all had perfect scores. Terrific pickin them. The Division games and year to date results are posted in the reply. 

Good morning!Cats and doors *again*!This time... they closed one on themselves. ROTFL.The usual time for MEOW WOWOWWOWO IAO! passed. Uh-oh... I open the door to the firs tfloor... no cats.No cats? Wait, what?I creep through... And there they are, behind a nicely closed *bedroom* door (Mom's old bedroom) and quite peeved. Apparently, in the course of playing or whatever-ing one o fthem hit the...