Fibromyalgia Support Group
You're not alone in your pain. Fibromyalgia is a condition that can be difficult to diagnose and manage. If you're trying to cope with pain throughout your body, sleep problems, general fatigue, or other common fibromyalgia symptoms, you're in the right place. The community is here for you to talk about therapies and share your challenges.
Monday Meow-Moan-Morning Check-in

Leo
Good morning! Oy, the temp changes here! Up-down-sideways. Ouchies but survivable. Shout out to Autumn for the weekend check-in and hugs to all.
Meanwhile, in our world, Dixie wants out-ou-ou-ou-out! Huby is complaining about her meowing, I'm tired ofhis  moaning, andit' snot even 630 AM. Oooh, Mondays...
But the "girls" (cats) enjoy their new toys. Dixie hates her collar-nametag. She wants out, she's going to go on our terms --- leashed, then only with collar and tag. People here don't grasp checking for microchips, and I want to keep her "safe". (It's a breakaway collar, btw, and she has yet to undo it. THi smake sme laugh. Former ferals take about 30 minutes at most to get out of them on purpose. Human-raised, apparently, not so much... We're calling her Dixie Bell b/c she jingles from shaking the collar. Yes, she has 2 fingers between it and her, etc. She's just getting used to it. It's the pric eof OUtdoor Life if she wants it.)
Anyway...
*
Happy Birthday to Friedrich Nietzsche, the German philosopher who famously gave us the line, "God is dead", which was/is taken far out of context. (Nietzsche in fact lamented that the human "killing" of God resulted in no way to "comfort ourselves", and did not advocate "killing God".)
Born 1844, Nietzsche attended higher education thank sto scholarship b/c his dad worked for the German state as a pastor. Nope, Fred didn't get in on academics. Sorry.
While in what we'd call university, Fred (I am not typing that damn Nietzsche 18 times, sorry!) loved to study the shocking and unusual, which earned him criticism. Study what was "healthy and German". (Lest you think that sort of thinking began with Adolf Hitler, no.)
Fred idd his own thing, and eventually became a philosopher among other things.
Then he had a mental breakdown in 1889, and his sister slowly took over his life, his work, his everythings, in the 1890s. During tha ttime, Fred had what were probably two strokes, and suffered dementia either from those, a tumor, or just plain old "he got old" and/or the ever-popular (fill in illness du jour). I'll note that everyone had syphilis or TB in the 1890s, much as it seems everyone must be ADD or bipolar for a period in recent history, soooo.... yeah. Medical "fashions" may not reflect fact. Odds are, Fred suffered whatever is actually most common over time (stroke/dementia) and that was that.
His sister Elisabeth, btw, found him uncommunicative and got a tutor so she could understand his writings. She edited them, so, no, "The Will To Power" is not Fred's. It's Fred-via-Elisabeth.


That said, Nietzsche did in fact say, "Woman was God's second mistake". Thanks, Fred.

We also owe him for "ubermensche" or "super man" (superior man). Yes, take that forward to Hitler.  Ironically, Fred himself was against anti-Semitism and excessive nationalism, but Elisabeth "edited" a lot of that to suit herself and, possibly, the publishers' tastes.
Whatever the case, happy birthday to a man idolized by nihilists and Nazis and numbers of undergarduates who haven't a clue what they're really saying most of the time. 
Of course, Nietzsche is convenient in another sense. He was "anti-foundationalist"That is, he felt no belief or knowledge required basics for inquiry and acquisition of knowledge, and what that means is, he felt it was okay to jump from "utter ignorance" to "calculus" without anything in between, b/c, y'know, who needs all that earlier foundational mathematics? No no no. Waste of time. Ignorant. Blah blah blah.
You'll note, btw, that he died in 1900, clocking in 55 years of life, the last 11 of which were spent in a state of mental "disarray" (as they said then) but most likely stroke-induced dementia/cognitive issues (just on the odds, let alone his own father's health/death, etc.). Lots of stuff to spout off about for a guy who ceased being independently functional around age 44 (mentally and physically). Packed a lot into those years between school and "illness". (Whatever it was. Like I said, Ip lay the odds.)Anyway, Nietzsche remains an icon in philosophy departments around the world. I hated philosophy 101 and left after a week, soooo.... Not a big fan of "let's discuss thing so abstract that they're no longer things" or whatever it is. Me no clue, me no care, me barbarian, whatever.
***
On that note, HAPPY MONDAY! No moan for anyone, only wellness and a nice hot cuppa and maybe we can dream of a nice massage and in my case someone to not step on my sore foot. (Dixie isn't even 10 pounds but she ran over my foot and it felt like she had paws the size of truck tires!)
Here's a nice pic of our girl Dahlia, btw. She is a lap tyrant already. Odd note: She has white patches under her chin, on her belly, and in her "underarms". Weird, but true.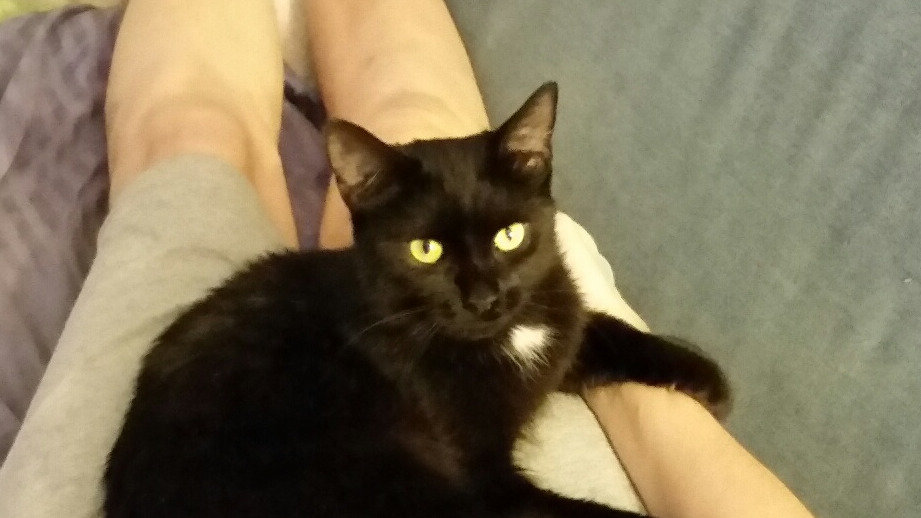 Posts You May Be Interested In
Dahlia to vet in 1 1/4 hours so I got time to basically runf or my life and warm up for the Cat Rodeo. She seems to be okay, but I'm only 90% on that, so... Just a gut call, best to have a vet confirm it's all kosher.Meanwhile, for thsoe who don't visit my journal, my dad's family poked into my life and was weird and creepy as usual, and it freaked me out. Basically, a handwritten note saying,...

A huge welcome to veggiequeen     who picked her games for the very first time this weekend and did quite well.  Great to have you. Congratulations to our weekly winners;  Cedarbrooke, Lesa, attester, Willgord, Pebblebeach, kasandra, cloverset and Lukie which all had perfect scores. Terrific pickin them. The Division games and year to date results are posted in the reply.