Fibromyalgia Support Group
You're not alone in your pain. Fibromyalgia is a condition that can be difficult to diagnose and manage. If you're trying to cope with pain throughout your body, sleep problems, general fatigue, or other common fibromyalgia symptoms, you're in the right place. The community is here for you to talk about therapies and share your challenges.

Leo
GOod morning! I had a horrible night! You?
Anyway...
***
Up to 75% of people who appear on charges of animal cruelty/neglect/abuse WILL appear incourt for the same charages again. (Statistics only apply to US; regional variations, due to regional law variations.)
Scientists are wondering: What are these little rings of DNA doing in our cells? Are they cancer-related? IMmune-related? Nothing special? Ack! As usual, every new answer brings questions. Since we know they exist (and have for a long time) but aren't sure what all they mean... I attach this article, and leave you to muddle through if you wish. My FIL, btw, thinks that the rings may also serve in healthy cells to attract and attach (and thus neutralize) invaders, not just create havoc...   But that's him.  The MD/PhD in that stuff.  
So... here's the article:   https://www.genengnews.com/news/cancer-a-dna-ring-circus-where-oncogenes-wreak-havoc/
In 1961, Fidel Castro quipped, "A revolution is not a bed of roses". It was, however, a box of cigars for that guy. (OK, bad joke.)
Today in 1901, Gillette patented the KC Gillette Razor, the first to have a permanent handle and replace-able blades.
In 1954, the US Senate censured Senator Joe McCarthy, whose inquiries into the "anti-American activities" of US citizens had been first lauded, then distrusted, and finally viewed with embarrassment.  "McCarthyism" became a word thanks to the senator's insistence that there were commies everywhere! everywhere! EVERYWHERE!... Meaning people who might have looked at a communist pamphlet in 1935 were losing their jobs, repuatations, etc.  (Bear in mind, in the 1930s, the economic global depression had people joining all kinds of political movements.)
Roy Cohn, who worked avidly and actively with McCarthy, was technically McCarthy's legal counsel. Cohn eventually went on to represent others in private practice. Current POTUS Donald Trump included.  Cohn was disbarred for unethical conduct in 1986, not long  before his death from AIDS-related complications, and was known to enjoy sexual relations with men... Despite his being part of the anti-gay movement that went along with McCarthyism.

Curiously, btw, people close to Cohn said he wasn't homosexual. He just liked sex with men. Not really sure how that distinction plays out, but okay, fine, whatever. An interesting footnote to McCarthyism.
***
And here's our Christmas tree! The tree topper was broken when Dixie attacked Dahlia while Dahlia sat under the tree, but otherwise I'm quite happy about it.
Merry Monday!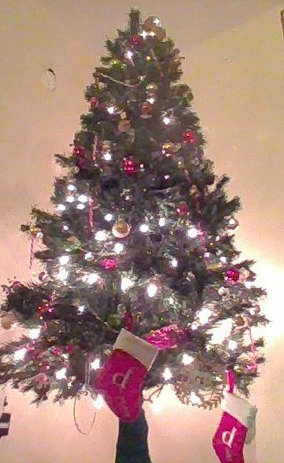 ***
Posts You May Be Interested In
Good morning!Today I was reading up on this year's flu outbreak. It's not A-strain-dominated (y'know, our usual H-N friensd.) This year, looks like the uS is getting hit by B/VIctoria --- which isn't dangerous per se, but certainly isn't the usual "dominant" flu. So far, over 60 percent up to 70 percent of flu cases tested for strain? Yep. B/Victoria. (Named for Victoria, Australia.)  And, be...

Who do you turn to when you're looking for some good advice?